Introduction
The Curated Discussions are an integral component of the Generation Equality Forum's (GEF) stakeholder engagement strategy.
From September 2020 through June 2021, over 700 people from all regions of the world convened in four thematic conversations addressing cross-cutting topics related to the GEF, its six Action Coalitions and the Compact for Women, Peace, Security and Humanitarian Action. The focus of the events ranged from intersectionality and multi-layered inclusion, to intergenerational activism and youth leadership, transforming gender norms, and the power of storytelling to generate change at local and global levels. Participants included a diverse group of individuals, such as youth activists, civil society representatives, government officials, private sector, philanthropic partners, and UN Agencies.
The Curated Discussions produced tangible recommendations to inform the process and outcomes of the GEF and strengthened stakeholder engagement and movement building for gender equality. See below the outcome reports of each event and the recommendations that were put forward!
Curated Discussion #1
The first Curated Discussion addressed the concepts of intersectionality and multi-layered inclusion to clarify how central these are in promoting gender equality. In the context of complex social dynamics with multiple forms of discrimination and intersecting inequalities, which have been exacerbated during the COVID 19 crisis, the discussion highlighted the importance of ensuring that the GEF adopts and promotes an intersectional approach in its governance structure and in the delivery of the Forum, including by amplifying the voices and representation of those communities that are historically marginalized.
Speakers:
Mozn Hassan, Egyptian feminist & Human Rights Defender
Sophia Pierre-Antoine, Haitian Gender Advocate
Alda Facio, Feminist Lawyer, Scholar & Writer
Lizzie Kyama, Advocate for the Rights of Women & Girls with Disabilities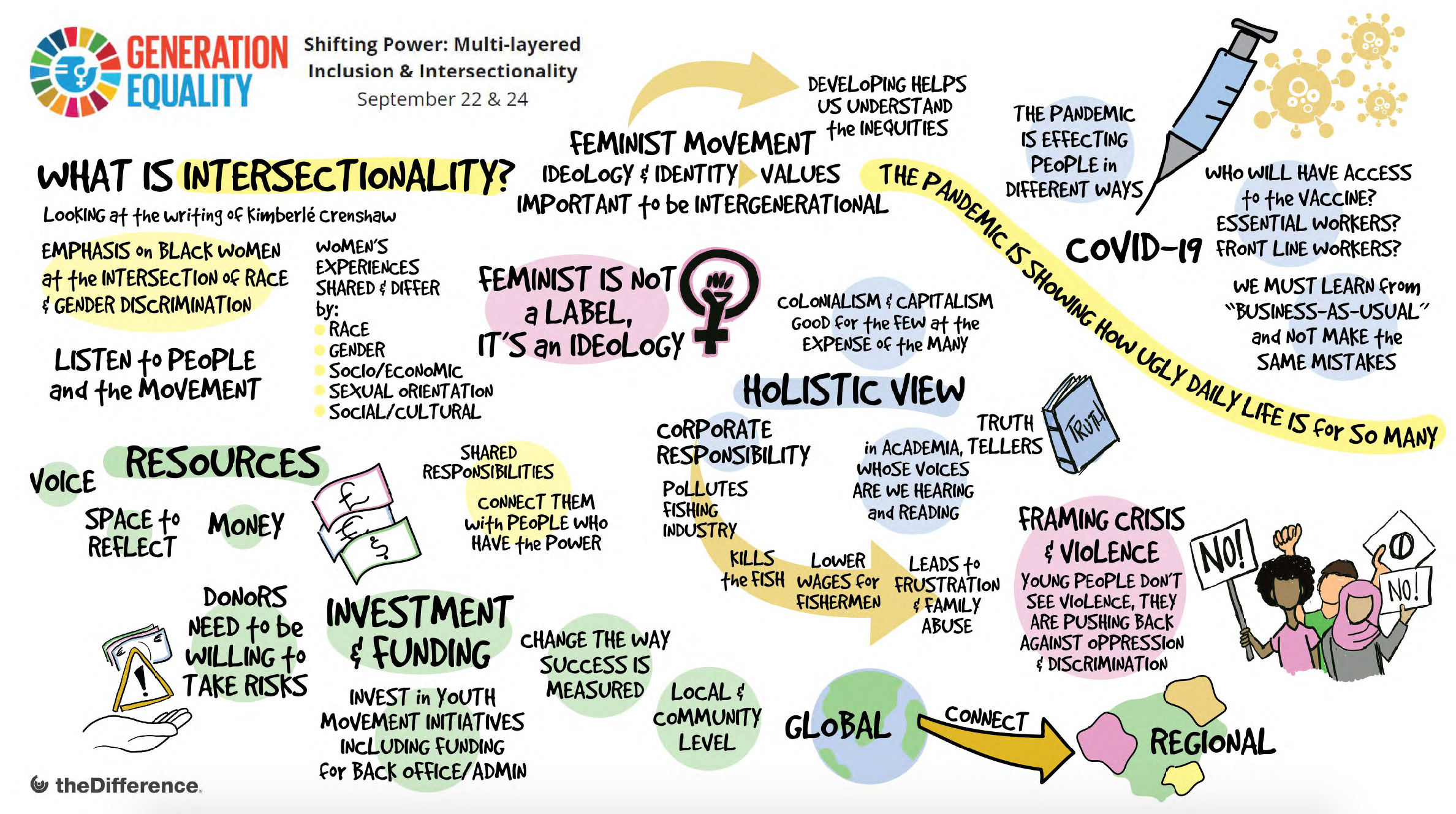 Curated Discussion #2
The topic of the second Curated Discussion – Intergenerational Activism and Intersectional Youth Leadership – reflects the GEF's priority to foster meaningful youth engagement across all aspects of social and economic life, especially for young women and girls. Building on the work of the Generation Equality Youth Task Force, speakers and participants highlighted the continuous challenges faced by youth rights movements and by youth activists around the world, and encouraged the GEF to address these challenges by creating an environment that fosters and champions the leadership of youth and adolescents.
Speakers:
Ruth Miller, Indigenous Rights & Climate Activist
Mary Robinson, Former President of Ireland
Fernanda Heredia, Chilean Indigenous Rights Activist
Phumzile Mlambo-Ngcuka, Executive Director of UN Women
Tan Ejin, Advocacy Champion with the World Association of Girl Guides and Girl Scouts
Everjoice Win, Social Justice and Women's Rights Leader
Sarah Awad, Youth Activist and External Representative of the World Association of Girl Guides and Girl Scouts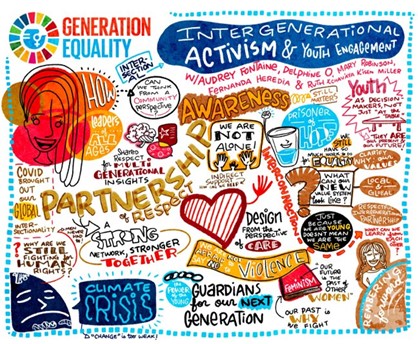 Curated Discussion #3
The third Curated Discussion dealt with the need to transform deep-seated gender norms to achieve gender equality. Speakers and participants emphasized that harmful gender norms are a key barrier to gender equality, disproportionately affecting women and girls, and directly contributing to the violations of women's rights, such as right to education, health and political participation. In this context, it was recommended that the GEF continues supporting feminist movements, including by creating a counter-narrative to discriminatory norms and stereotypes, and by fostering engagement of key actors such as community and religious leaders who have an important role to play in shifting norms at a local and global level.
Speakers:
Anna-Tulie Araujo, Co-founder of ULTRA, Brazil
Selin Ozunaldim, National Gender Youth Activist and HeForShe Advocate
Sylvain Obedi, Founder and National Coordinator, Enable the Disable Action
Dipty Chander, President of E-mma Association, Employee at Google, France​
Laxman Belbase, Co-director, Men Engage Alliance
Marwa Sharafeledin, Scholar and Activist, Advisory Board Member of Musawah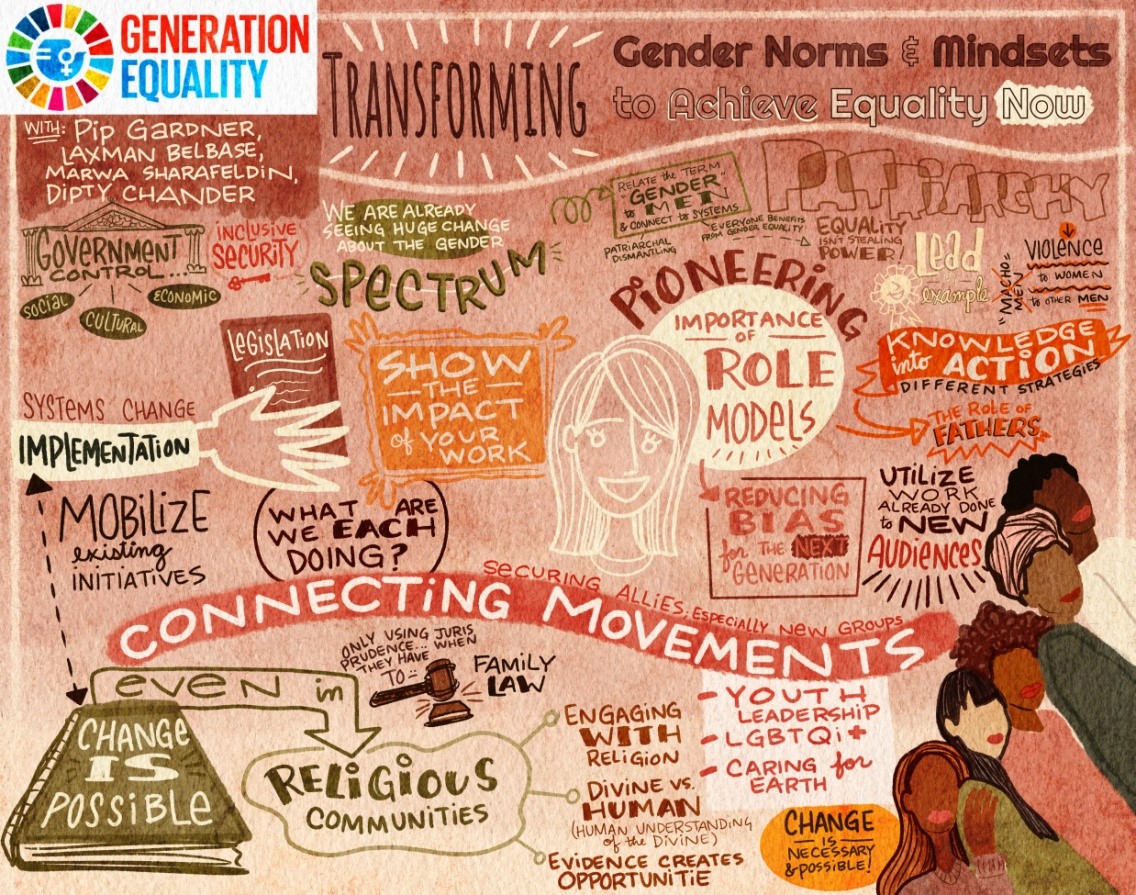 Curated Discussion #4
The fourth and final Curated Discussion focused on storytelling as a technique to generate change and achieve gender equality at both local and global levels. The discussion highlighted stories of resilience and action in different contexts and explored the role of key actors, including local communities and grassroots organizations, and storytelling techniques such as the interactive theater, to communicate gender equality issues and promote lasting change. As highlighted in the report, it was suggested that the GEF promotes meaningful and responsive storytelling to lead to lasting change at global and local levels.
Speakers:
Mia Gary, 12-year-old girl guide, Malaysia
Norma Palacios Trabamala, Representative of the 1st Mexican Workers Union
Gerel Dondovdorj, President of the Mongolian National Federation of the Blind
Sevidzem Ernestine Leikeki, Head of the Gender Department of CAMGEW (Cameroon)
Jaha Dukureh, Gambian human rights activist & anti-female genital mutilation (FGM) campaigner
Cearlovey Granali, 18-year-old girl guide, youth leader & advocate from the Philippines
Malak Swed, Member of the board of Tamas Syrian Civil Society Coalition
Stephanie Alexandra Altamirano Herrera, Ecuadorian activist fighting to end sexual violence against women