At the  74th UN General Assembly, leaders and gender equality advocates from around the world came together to look ahead to the Generation Equality Forum in 2020 and to take stock of the gender equality outcomes of the G7 Biarritz Summit.
In August 2019 at the G7 Summit  the Gender Equality Advisory Council (GEAC) made concrete recommendations on how to achieve gender equality. Now, the Council is working to galvanize the Biarritz Partnership for Gender Equality by creating a coalition of countries committed to improving their laws to advance gender equality.
Nobel Peace Laureate Denis Mukwege, a member of the GEAC, emphasized the need to keep women's voices and needs at the centre of action for women and gender equality. Dr. Mukwege called for support and compassion to help survivors of sexual and gender-based violence in conflict achieve justice and rebuild their lives.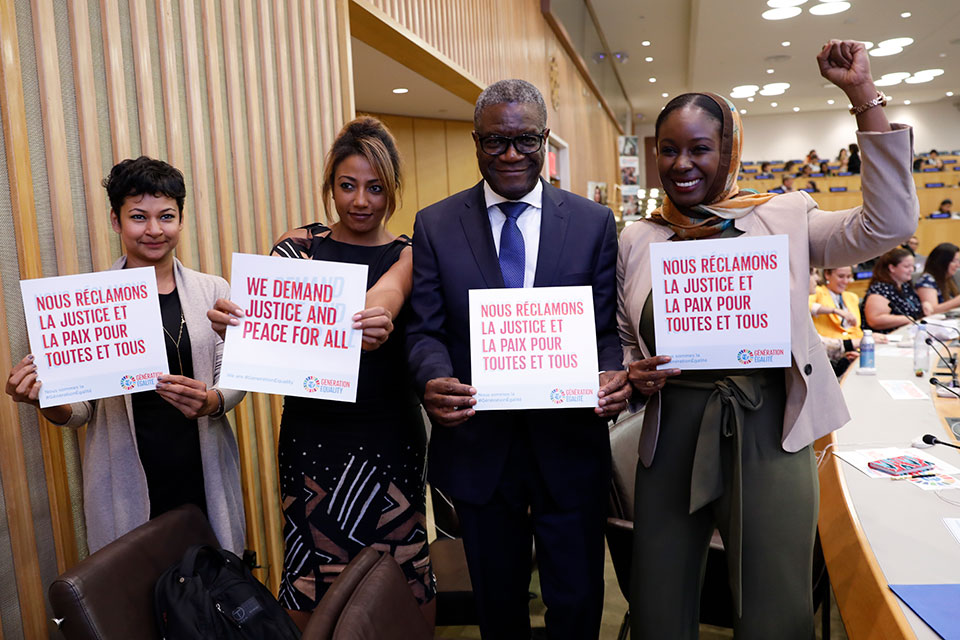 "Our goal is ambitious, but it is feasible," said Dr. Mukwege, adding that concrete investments and commitments are needed to drive these changes.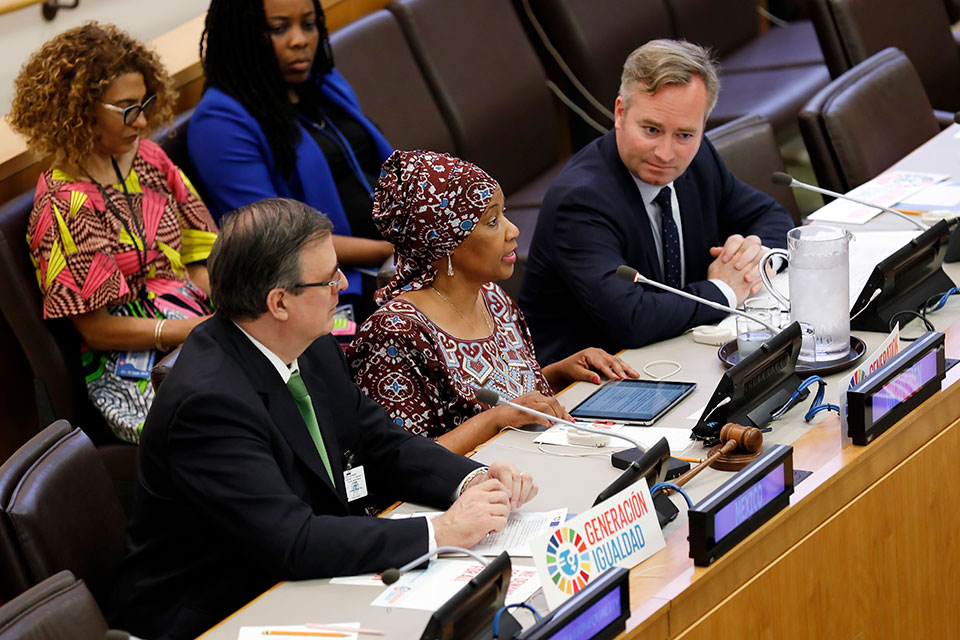 "2020 will be a historic year," said UN Women Executive Director Phumzile Mlambo-Ngcuka, also a GEAC member.  "It can change gender equality if we all pull together. We cannot betray the struggles of women who brought us this far and the future of those who are dependent on us today and tomorrow" she reiterated.
Earlier this year, the Governments of France and Mexico agreed to co-chair the Generation Equality Forum, in partnership with civil society and convened by UN Women, to commemorate the 25th anniversary of the Beijing Declaration and Platform for Action, the most visionary agenda for gender equality and women's rights, adopted in 1995.
"There cannot be social change without equality of gender," said Mexican Secretary of Foreign Affairs, Marcelo Ebrard. "If we do not reach that, there will be no progress. Societies will not change."
The French Minister of State Jean-Baptiste Lemoyne echoed the sentiment of urgent action for gender equality, adding: "We need concrete actions and coalitions to move women's rights forward."
The Generation Equality Forum, kicking off in Mexico City, Mexico, from 7-8 May 2020 and culminating in Paris, France, from 7-10 July 2020, will bring together activists, governments, business leaders, cities, parliaments, trade unions, media and others who are strong champions of gender equality, to grow partnerships and collaboration to reach gender equality.  
Melinda Gates, co-founder of the Bill and Melinda Gates Foundation, highlighted the importance of the Generation Equality Forum in bringing together the momentum of gender equality movements around the world for united action.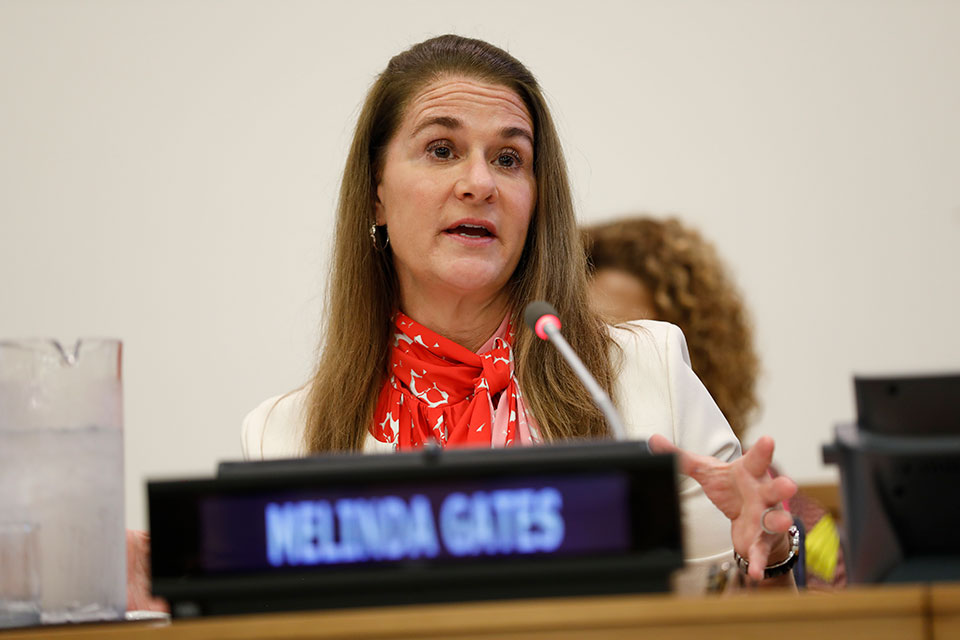 "People are angry, and it's our job to take that anger and turn it into action," said Gates. "The Generation Equality Forum can be an organizing force for a very powerful agenda for change. It can be a lightning rod that captures all of that energy that's crackling around us and focus it on making progress."
Echoing her sentiment, Shannon Kowalski, Director of Advocacy and Policy at the International Women's Health Coalition and civil society member of the Core Group for the organization of the Generation Equality Forum added that the work of civil society groups around the world should serve as an inspiration to all ahead of the Forum.
"We know that change is possible, this hope comes from the women's movement and feminist organizations that are working tirelessly to hold their governments to account and change the laws, policies and social norms that hold us back," said Kowalski.
During the event many high-level speakers including Vice Prime Minster of Ireland Simon Coveney, Minister for Foreign Affairs of Sweden Ann Linde, Minister for International Cooperation of South Africa Naledi Pandor, and Secretary of State for Foreign Affairs of Spain Fernando Valenzuela, affirmed their commitments to gender equality and women's rights, including support for the Generation Equality Forum in 2020.
Speaking on behalf of the Unsterotype Alliance made up of leading advertisers, communications agencies and digital agencies from around the world convened by UN Women, Sanda Ojiambo, Head of Corporate Responsibility at Safaricom said: "The Unstereotype Alliance firmly believes that advertising and communication can play a key role in determining and shaping cultural norms… So, on behalf of the 40+ members of the Unstereotype Alliance, we look forward to joining the Forum and working together with Generation Equality [campaign]".
Capturing the mobilization around the 25th year of Beijing Platform for Action and sparking a global dialogue on gender equality with voices of activists is UN Women's Generation Equality public advocacy campaign launched earlier this year.  The 25th anniversary of the Beijing Declaration and Platform for Action in 2020 is a unique time in history to rally around the human rights of all women and girls. It will also bring together other key moments in the 21st century women's rights and gender equality agenda including the 20th anniversary of UN Security Council resolution 1325 on women, peace and security; the 10th anniversary of UN Women's establishment as the global champion for the empowerment of women and girls; and the 5th anniversary of the global Sustainable Development Goals, which put gender equality at the heart of sustainable development.
Watch archived webcast