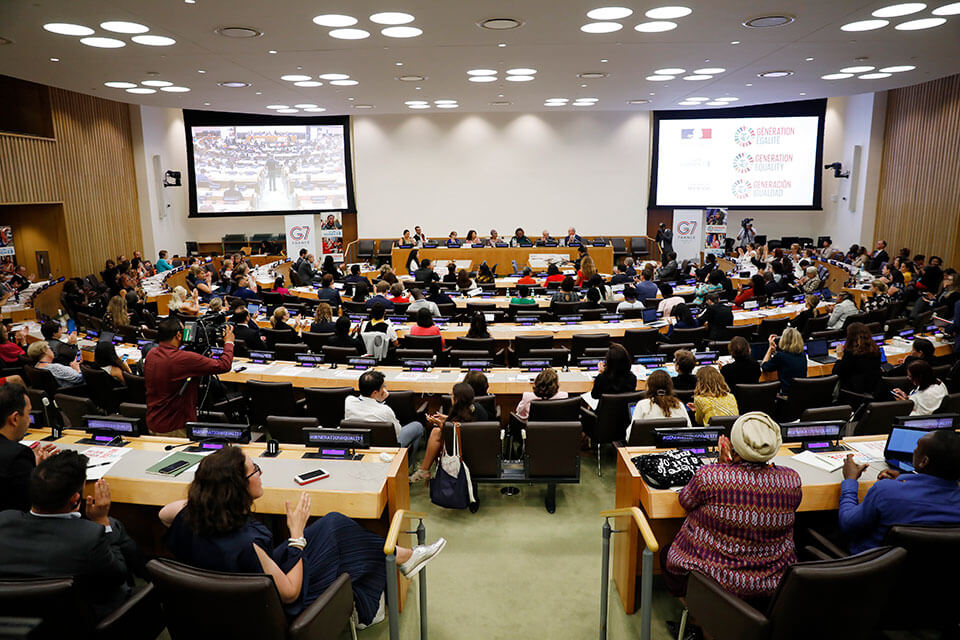 Gender equality is a central aspect of peace, security and sustainable development. In 2015, the 2030 Agenda for Sustainable Development established the achievement of gender equality as a stand-alone goal and as a pre-requisite to achieve all other goals.
The 2030 Agenda for Sustainable Development draws from the prior four UN World Conferences on Women in Mexico City in 1975, Copenhagen in 1980, Nairobi in 1985 and Beijing in 1995.

The time to act is now.

At the G7 Biarritz Summit, the Gender Equality Advisory Council (GEAC) of the G7, created under the Canadian presidency, has made concrete recommendations to achieve gender equality. The French President has invited the GEAC to meet in the margins of the 74th session of the UN General Assembly with the goal of internationalizing the Biarritz Partnership for Gender Equality, which aims at creating a coalition of States committed to improving their legislative framework to reach gender equality.

This side-event, hosted by the French and Mexican Foreign Affairs Ministers, Jean-Yves Le Drian and Marcelo Ebrard and co-sponsored by UN Women, will take stock of the gender equality outcomes of the Biarritz summit and the work of the GEAC (of which the Executive Director of UN Women is a member) and officially introduce the Generation Equality Forum in Mexico in May 2020 and in Paris in July 2020 to the international community.

UN Women Executive Director Phumzile Mlambo-Nguka, French Minister of State for Gender Equality and the Fight against Discrimination Marlène Schiappa and President of the Mexican National Institute for Women Nadine Gasman Zylbermann will participate in the event.

The side-event will highlight announcements from Ministerial representatives of governments (who would like to join the Biarritz Partnership and the Generation Equality Forum), of civil society and private sector organizations involved in the Forum. At the same time, UN Women, France and Mexico will present the concept of the Action Coalitions that will be the outcome of the Generation Equality Forum and seek early commitments on one or issues.