As the global champion for women and girls, UN Women will strongly collaborate with the Women Deliver 2023 Conference, which will take place in Kigali, Rwanda from 17 to 20 July 2023 and will bring together civil society, women's rights activists, Governments, philanthropies, private sector companies; along with the next generations of changemakers, including youth, adolescents and visionaries who were instrumental in building and driving the momentum of Generation Equality.  
The Women Deliver Conference is taking place in the lead-up to the Midpoint Moment of Generation Equality – which will be held in September 2023 in New York. Convened by UN Women, the Generation Equality Forum (GEF) is an unprecedented global effort to accelerate investment and implementation on gender equality in today's context of stalled progress and regression.  By bringing together diverse stakeholders from every part of society, Generation Equality aims to disrupt inaction, drive political will and accountability, and ensure that the bold ambitions of the 1995 Beijing Platform for Action on women's rights are finally implemented, and the Sustainable Development Goals are achieved, leaving no one behind. 
 
Should you be on site, you are very welcome to join our events
Generation Equality events at Women Deliver 2023 Conference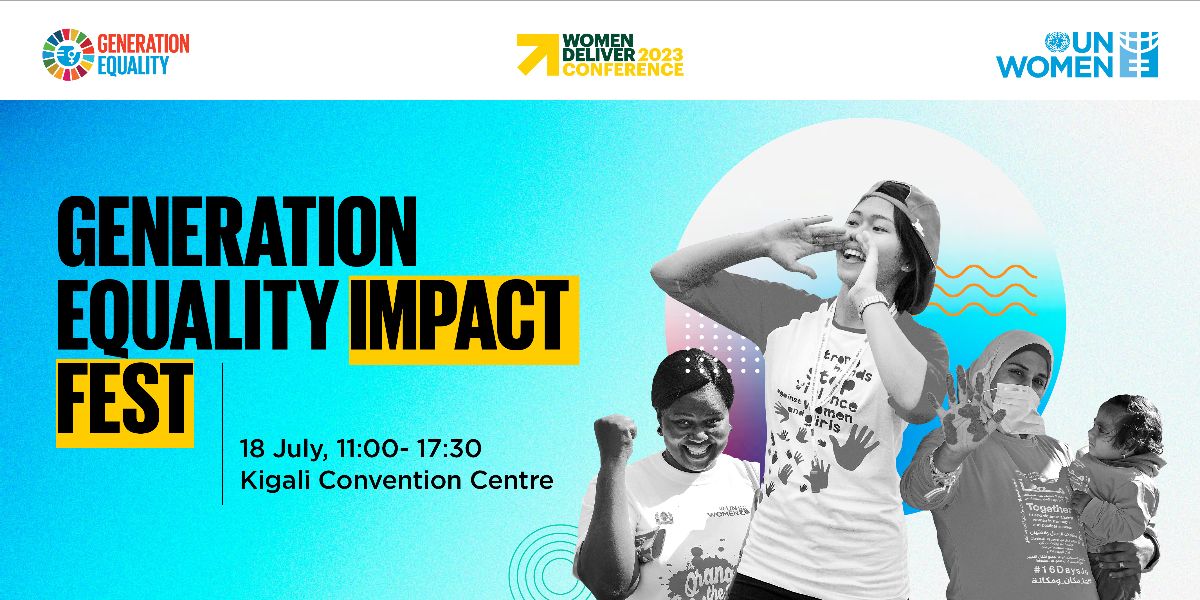 Generation Equality Impact Fest: "A Call to push forward for gender equality" high-level event: This high-level opening event will provide a context of the current state of affairs, synthesizing understanding of the anti-rights actors and their tools in pushing back against the gender equality agenda. It will also highlight evidence from Generation Equality and its Action Coalitions and Compact of how innovative multi-stakeholder, intergenerational models can, through collective action for gender equality, counter anti-rights movements. The session will issue "a call for collective action for pushing forward for gender equality"; highlighting good practice through the Generation Equality actions, commitments and modalities of engagement. Speakers include the UN Women Executive Director, Ms. Sima Bahous, co-hosts of the Generation Equality Mid-Point moment, Generation Equality Action Coalition leaders and Generation Equality commitment makers. 
18 July, 11.00-12.30, venue – Kigali Convention Centre MH4-1
Generation Equality Impact Fest: Accountability Workshop: The objective of the session will be to a) to provide an update on the 2023 Accountability Report, including a sneak-peak of the results of the second Accountability Survey, and b) create a space for knowledge sharing, exchange and dialogue with complementary feminist accountability processes, discuss synergies and build momentum for collective accountability towards the Generation Equality Midpoint Moment. The session will consist of the following segments: Keynote Address, Reporting on Generation Equality Commitments, and Why accountability matters panel discussion. Speakers and participants will include civil society, youth-led organisations, adolescent girls, Member States, Philanthropic organizations, for-profit organizations. 
 18 July, 14.00- 15.30, venue – Kigali Convention Centre  MH4-1  
Generation Equality Impact Fest: Generation Equality 101: This 90-minute session aims at raising awareness about the initiative's trajectory answering the "What, Why and How of Generation Equality" question. A Ted talk-style interactive, energetic discussion will bring a select group of the Generation Equality community – members states, civil society organizations, UN agencies, the philanthropy and the private sector. During and after the session, a UN Women Generation Equality helpdesk will be available to provide more details on joining the initiative and answering any inquiries from the participants. The helpdesk may remain throughout the entire duration of the conference. 
18 July, 16:00 to 17:30 Kigali time, venue – Kigali Convention Centre MH4-1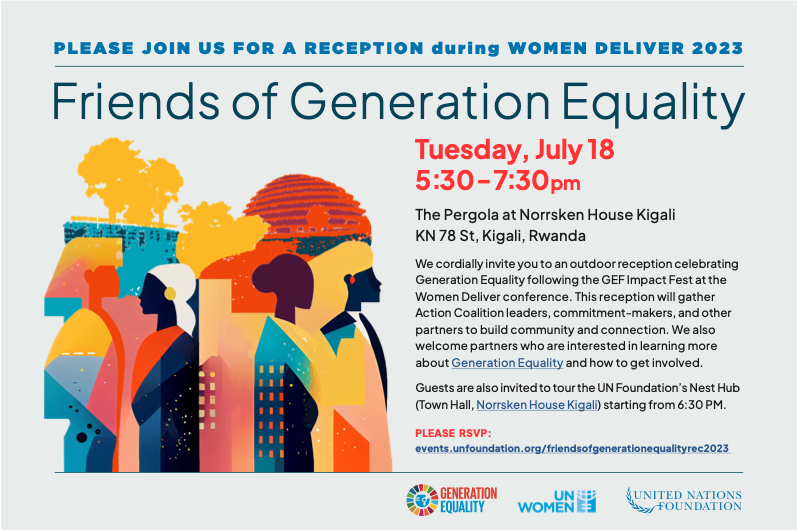 Reception "Friends of Generation Equality": Join us for a Friends of Generation Equality reception co-hosted by the UN Foundation and UN Women taking place alongside the Women Deliver conference in Kigali. The reception will take place on Tuesday, July 18th from 5:30-7:30pm at Norrsken House Kigali. Following brief welcome remarks from UN Foundation and UN Women, Urgent Action Fund-Africa will open the reception with a bodywork session entitled, "What's the Point of Revolution if We Can't Dance?". Movement and dance are universal embodiment practices we can use to explore a path to healing ourselves and each other…join us as we briefly get in touch with our whole selves to unpack, release and reconnect with mind, body, and spirit. 
 18 July, 17:30-19:30, venue- UN Foundation Nest Hub, Norrsken House Kigali Town Hall (KN 78 St, Kigali, Rwanda) 
Please RSVP here by Friday, 14 July 2023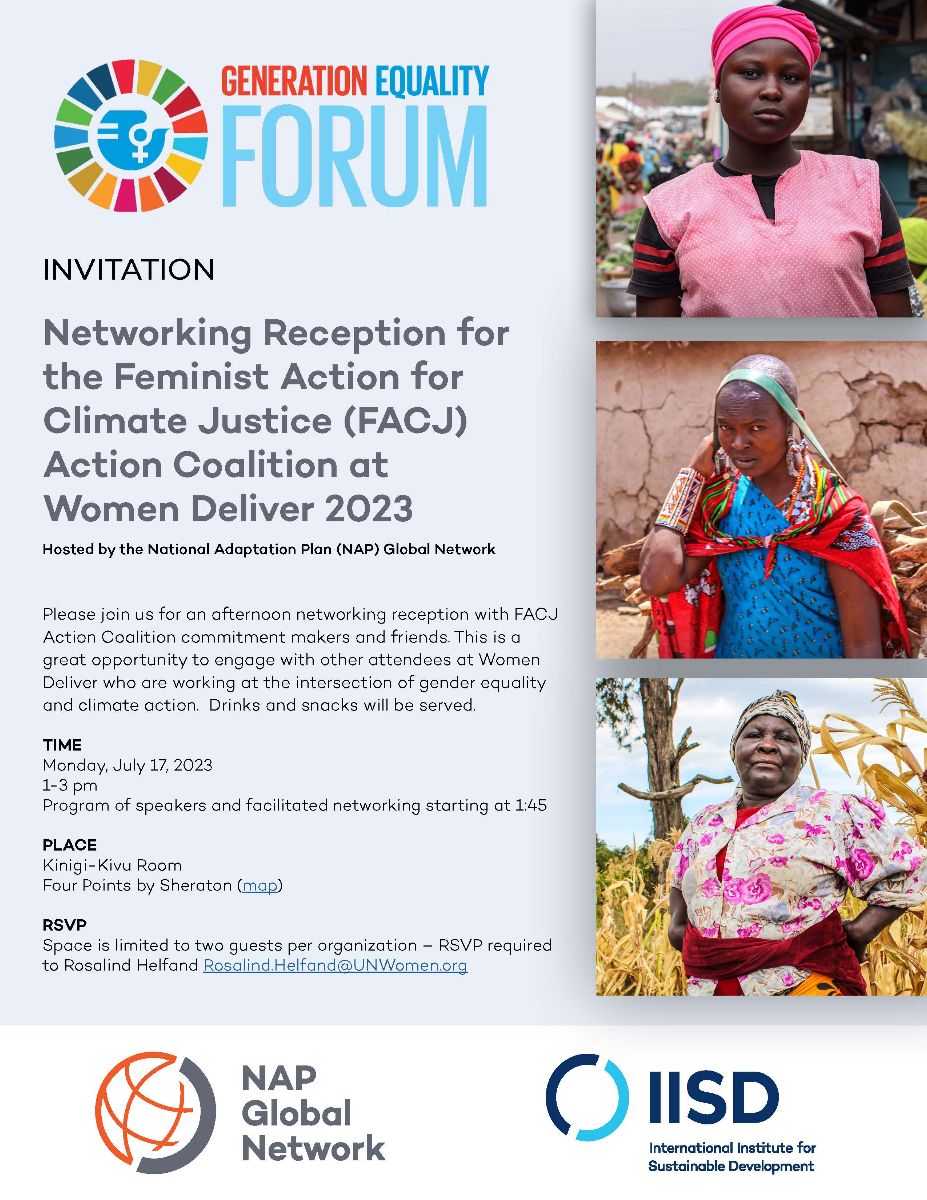 The Action Coalition on Feminist Action for Climate Justice Action (FACJ) invites commitment maker organizations to this coalition to join a special Networking Reception hosted by the National Adaptation Plan (PLAN) Global Network with IISD and Generation Equality Forum. This event will be held on Monday, July 17 from 1 pm to 3pm at the Four Points by Sheraton hotel in the Kinigi-Kivu Room. There will be an interactive program hosted by FACJ youth leaders from Girls for Climate Action and Fridays for Future MAPA at 1:45pm. Space is limited. Please RSVP to Rosalind Helfand at Rosalind.Helfand@unwomen.org and indicate your FACJ Action Coalition organization.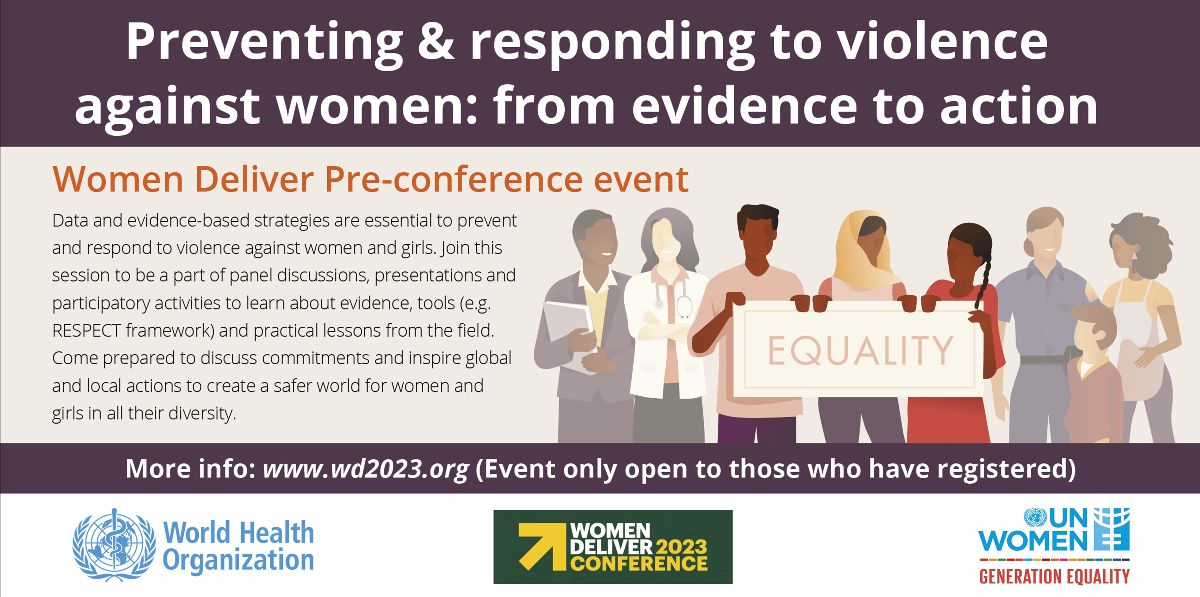 Preventing Violence against Women: From Evidence to Action: The event is co-organized by the World Health Organization and UN Women to advance commitments to prevent and respond to violence against women and girls as part of the Generation Equality Forum's Gender-Based Violence Action Coalition. Our panel speakers will share their experiences and insights on how to prevent and respond to violence against women and girls, using evidence-based strategies and tools. Participants will have the opportunity to engage in discussions and network with like-minded individuals, all working towards a common goal of ending violence against women and girls and creating a safer world for all.

17 July, 8:30 am - 12:30 pm, venue – Ubumwe Grand Hotel (KN 67 Street Kigali)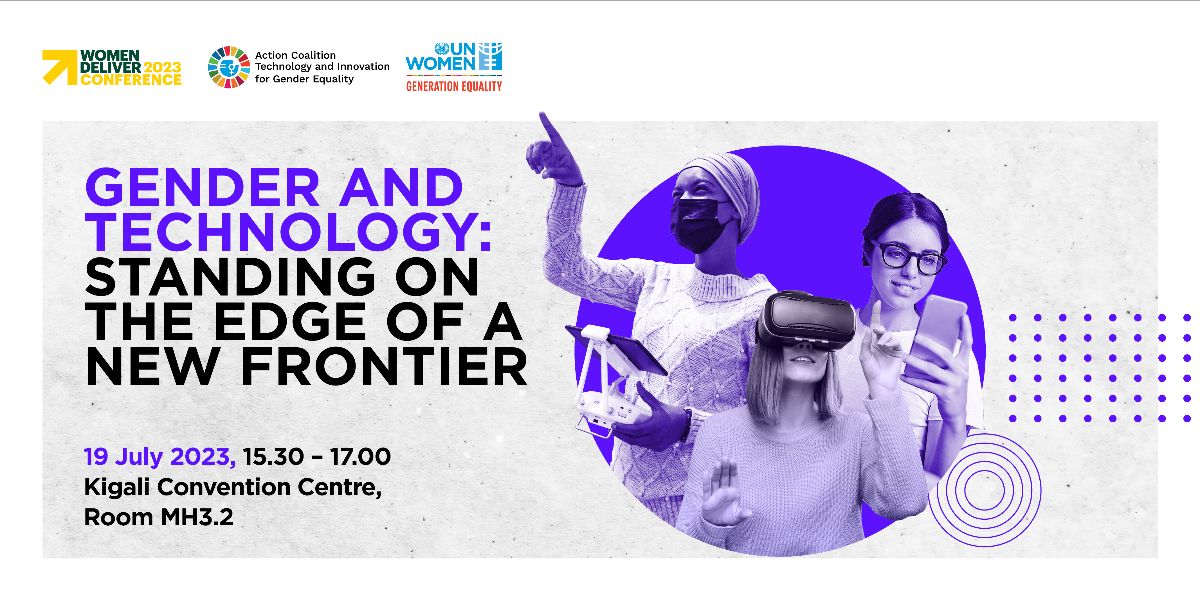 Gender and Technology: Standing on the Edge of a New Frontier: The session aims to bring together a variety of stakeholders and experts who will share their opinions and research on how to influence the development of technology and innovation to provide solutions to accelerate progress towards gender equality and the empowerment of all women and girls. This will include discussions on: a) the policy actions required to ensure women and girls are equipped with the knowledge, awareness and skills to leverage connectivity for their economic and social empowerment; b) the challenges of developing legislation that reduce large-scale, extreme risks from transformative technologies; c) the critical role multi-stakeholder partnerships play in advancing gender equality in the digital world, among others. The event will provide a space for participants to share their views on why it is a critical moment to invest in this topic and take action to bridge the gender digital divide. It will also provide a space for participants to share insights on how to implement CSW67 key recommendations. 
19 July, 15:30 - 17:00, venue – Kigali Convention Centre, Room MH3.2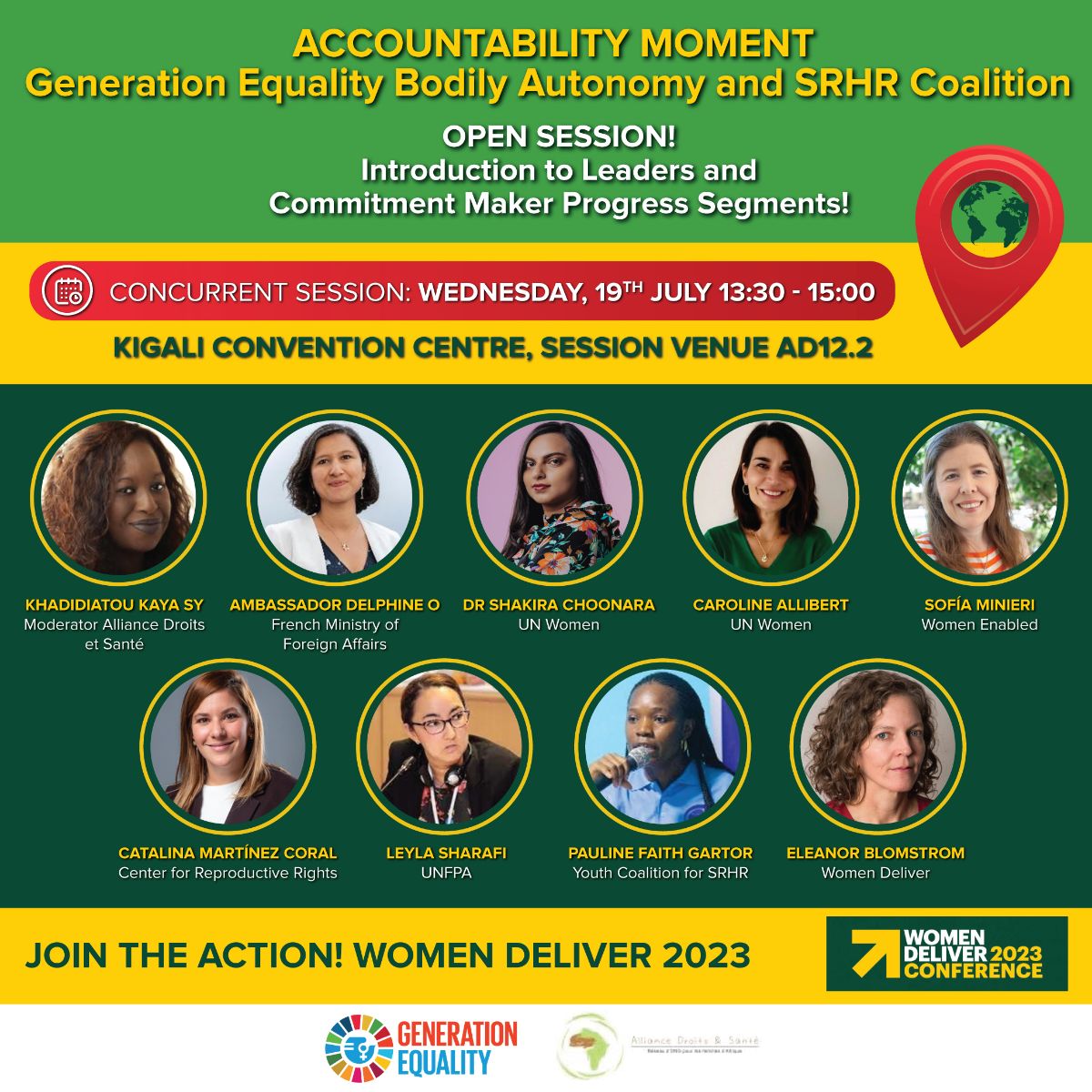 Accountability Moment: Generation Equality Bodily Autonomy and SRHR Coalition: This event will mark the largest gathering of the Action Coalition on Bodily Autonomy and SRHR since its inception, aiming to bring together Leaders, 396+ Commitment Makers and prospective coalition members together to draw attention to emerging "stories of impact" to date on the four action areas of the Action Coalition; learn and share the emerging new "gold standards" of feminist and inclusive approaches to bodily autonomy and SRHR principles and good practices, and identify feminist good practices and approaches for up-scaling and establish supportive action partnerships.
19 July, 13:30 - 15:30, venue – Kigali Convention Centre, AD12.2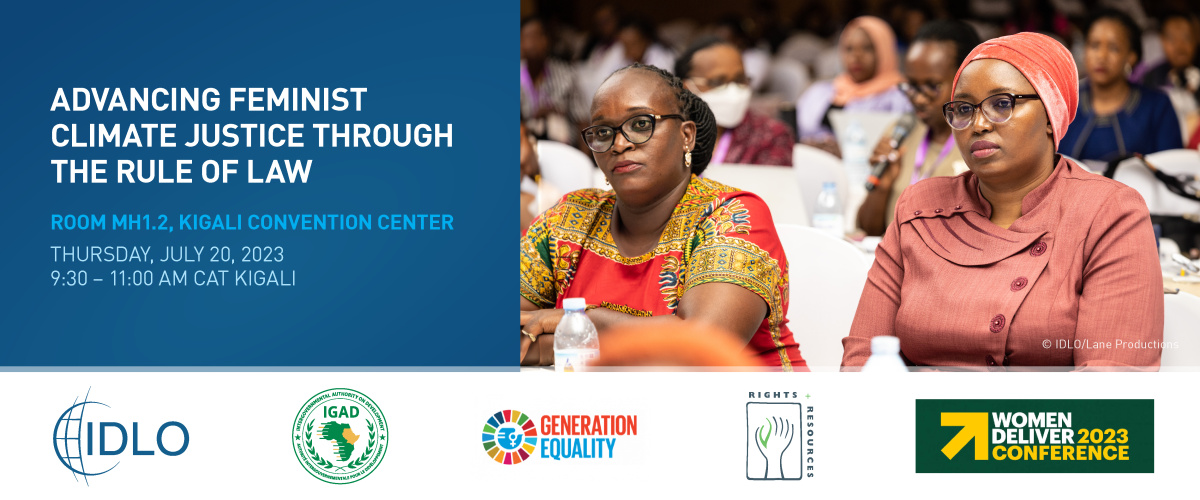 Panel: Advancing Feminist Climate Justice Through the Rule of Law: This session will address the huge gap in optimizing the potential of the rule of law and justice approaches in collective action to advance climate justice for women and girls. It will explore good practices and promising approaches on how legal and justice interventions have been utilized to achieve gender-transformative climate action and strengthen accountability for the promotion of women and girls' human rights. The panelists will share their expertise and experiences on using legal and justice approaches to promote women's environmental rights, build their resilience to climate impacts and strengthen women's leadership in climate decision-making processes.
20 July, 09:30 - 11:00 am, venue – Kigali Convention Centre, Room MH1.2 
More information about this event here: https://www.idlo.int/news/events/advancing-feminist-climate-justice-through-rule-law