Celebrating International Youth Day 2022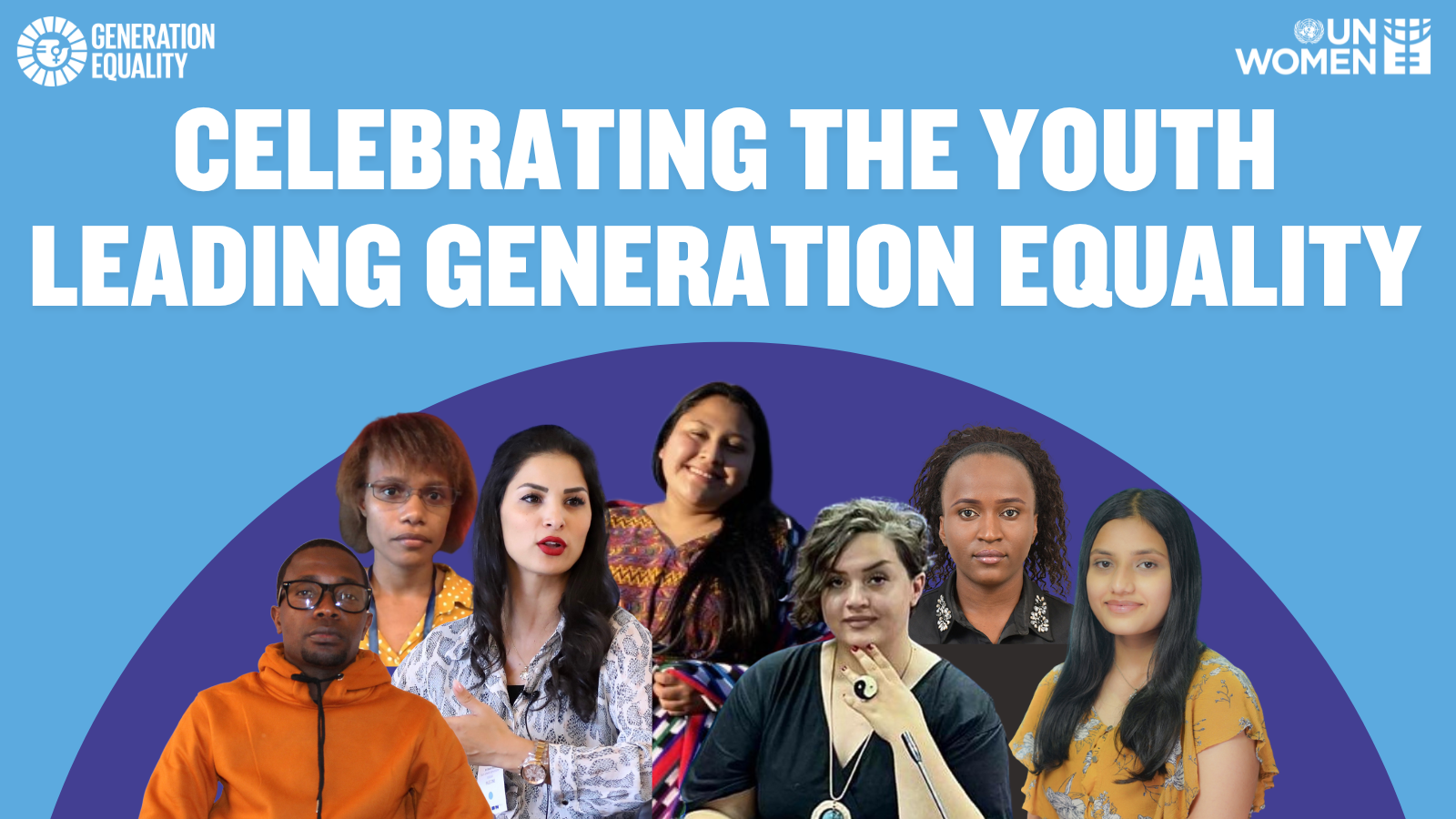 Youth and adolescents are leading global movements for change, bringing renewed energy and opportunities for achieving a more equal world for all. Generation Equality is building on this momentum by uplifting the leadership and contributions of the new generation in the fight for gender equality and bringing them together in partnership with advocates and visionaries of all ages and genders.   
On this year's International Youth Day (12 August), centered around the theme "Intergenerational Solidarity: Creating a World for All Ages", we are celebrating youth and adolescent voices, experiences and skills that are helping Generation Equality and its Action Coalitions make a real-world impact.  
Youth are constantly demonstrating what it means to be a changemaker, to think differently, to share power across generations and to ensure an equitable and empowering agenda for all. A total of 13 youth organizations have taken on leadership roles across the six Action Coalitions, and 10 per cent of all the commitments by partners during last year's Forum came from youth organizations. Over 300 National Gender Youth Activists and adolescent girls are sharing their country expertise and ensuring that local and national perspectives are reflected throughout Generation Equality. This young intersectional feminist perspective of the Generation Equality five-year journey was embodied in the Young Feminist Manifesto, a result of active youth feminist participation throughout the 2021 Generation Equality Forum in Mexico and France. 
Generation Equality is showcasing what can be achieved if all generations work together for equality. And now, to achieve progress on the Global Acceleration Plan, gender equality and Sustainable Development Goals actors must radically shift their collective responses to young people and to the structures that either support or exclude them. Approaches must be intersectional and gender responsive and must recognize the long-term impacts of ageism—including on all women's full enjoyment of their sexual and reproductive health and rights.  
Tackling the barriers created by ageism requires sustained effort. It is only by sharing power, avoiding tokenism, creating spaces for intergenerational learning and dialogue, and investing in youth and adolescents that the work of Generation Equality can be effectively taken forward into the future to ensure sustainable and irreversible change.  
Striving for—and realizing—a feminist future depends on the mobilization of all ages, genders and intersections. That is why, this International Youth Day, it is vital to uplift the voices of diverse youth activists and to hear their aspirations and tactics for building strong intergenerational partnerships in Generation Equality, the Action Coalitions and beyond.  
Meet some of the Generation Equality youth leaders across the world 
Amani Aruri 
Palestine | National Program Officer at Representative Office of Switzerland in oPt and Signatory of the Compact for Women, Peace and Security and Humanitarian Action  
"Intergenerational solidarity is integral to the development and achieving the aims and goals of the Compact on Women, Peace and Security, and Humanitarian Action—bringing together different stakeholders, power holders and decision makers to ensure the alignment of their agendas meet the demands, priorities and issues of the youth agenda. It is important to create synergies, to make sure there is inclusive leadership and power redistribution."
Hishita  
India/Saudi Arabia | UN Women Adolescent Girl Leader 
"I am a passionate advocate for the empowerment of girls and women all around the world in many sectors, mainly focusing on technology and education. Being a UN Generation Equality Adolescent Mobilization Committee Leader has helped me interact with many other adolescent girl activists and has helped me gain a myriad of new experiences that I am very grateful for." 
Floridalma López Atz  
Guatemala | UN Women National Gender Youth Activist 
"My experience in intergenerational collaboration has allowed me to join efforts, make my voice heard and participate, I currently integrate various organizations that promote Generation Equality, among them is the platform of indigenous women which is an intergenerational space that has given me the opportunity to converge and connect with other indigenous women leaders in the country. It has been a mutual learning process of sharing knowledge and experiences that ensures the continuity of the struggle for equality and thus the achievement of our goals."       
Mila  
Kosovo | UN Women Adolescent Girl Leader  
"We will continue our efforts and we will continue to raise our voices because we know that the voices of adolescent leaders are not only helping in creating a better future, but they are the better future."
Dorcas Bwalelo 
Democratic Republic of Congo | UN Women National Gender Youth Activist and Gender Expert at the Kinshasa Panzi Foundation  
"By participating in the 4th Specialized Technical Committee on the revision of the Beijing action plan, I had the opportunity to benefit from the experience of certain visionaries who played a decisive role in the development of the Beijing action plan. And it was very beneficial for my future commitment to gender equality." 
Bright Sibanda  
Zimbabwe | Executive Director of YES Trust Zimbabwe and Gender Based Violence Action Coalition Youth Leader 
 "The Generation Equality Forum has created a platform for young women and girls to interact with other youth-led organizations, with key government stakeholders, and the private sector, all together with the goal of ending violence against women and girls."
Video:  Genius Moyo   
Phillie Julai  
Papua New Guinea | Former Generation Equality Youth Task Force Member  
"Intergenerational collaboration is a unique opportunity for gender equality because we get to help the society and realize that it is not wrong to be equal but to be embraced by everyone that is around us."