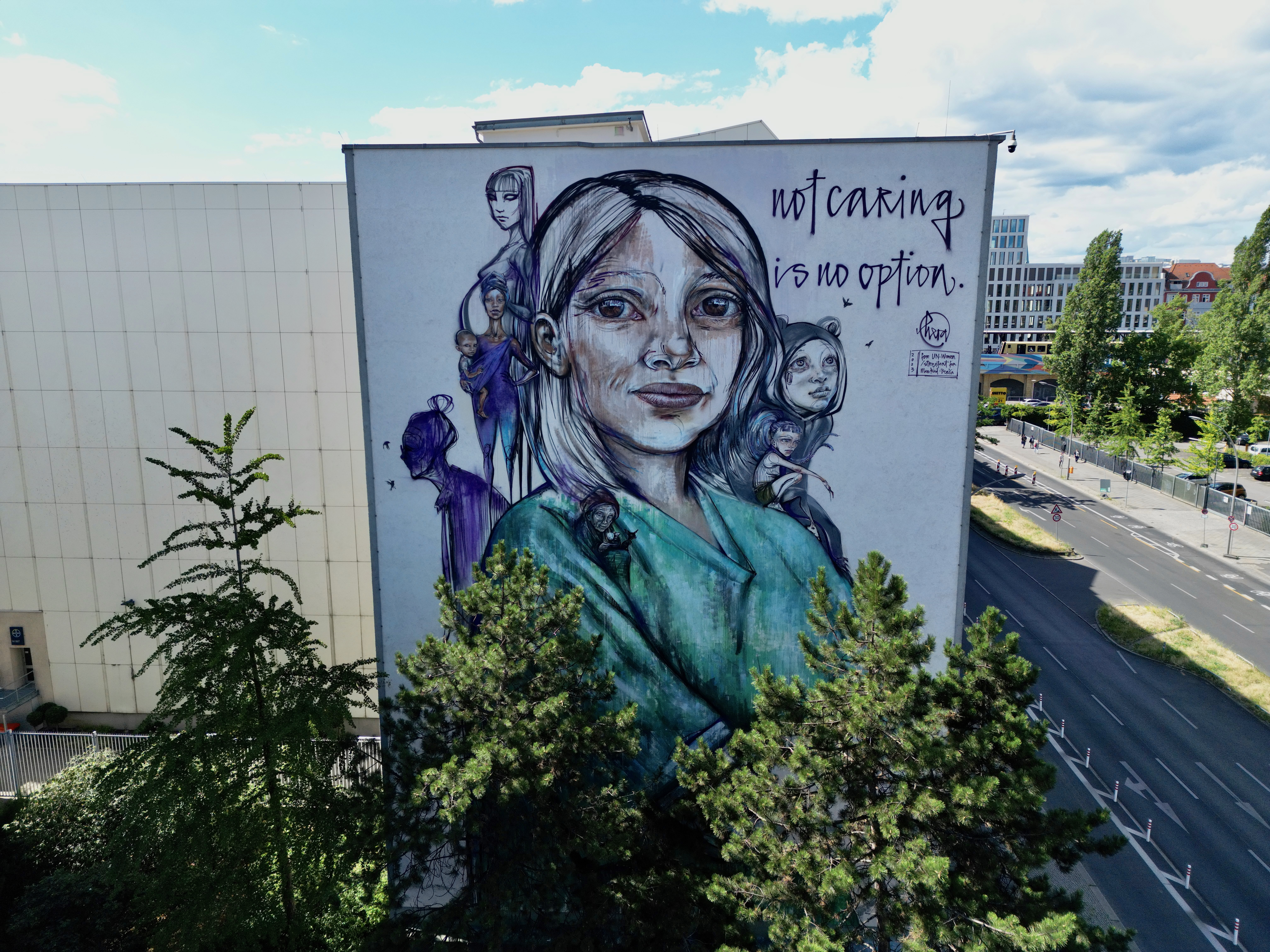 July 26th, 2023. BERLIN.- UN Women and Street Art for Mankind are bringing to life their fifth Generation Equality Mural in the heart of Berlin, thanks to the support of Bayer and the Berlin Senate Department for Culture, to accelerate awareness and actions for gender equality.
Starting on July 14th, German street artist HERA of Herakut has painted a #GenerationEqualityMural on 174 Müllerstraße, in Mitte, the busy and central borough of Berlin. The Mural marks the second year of implementation of the Generation Equality initiative and its entry into the Midpoint Moment, which, amongst other things, calls for accelerated commitment to the "Action Coalition on Economic Justice and Rights", that aims at increasing women's economic empowerment by transforming the care economy.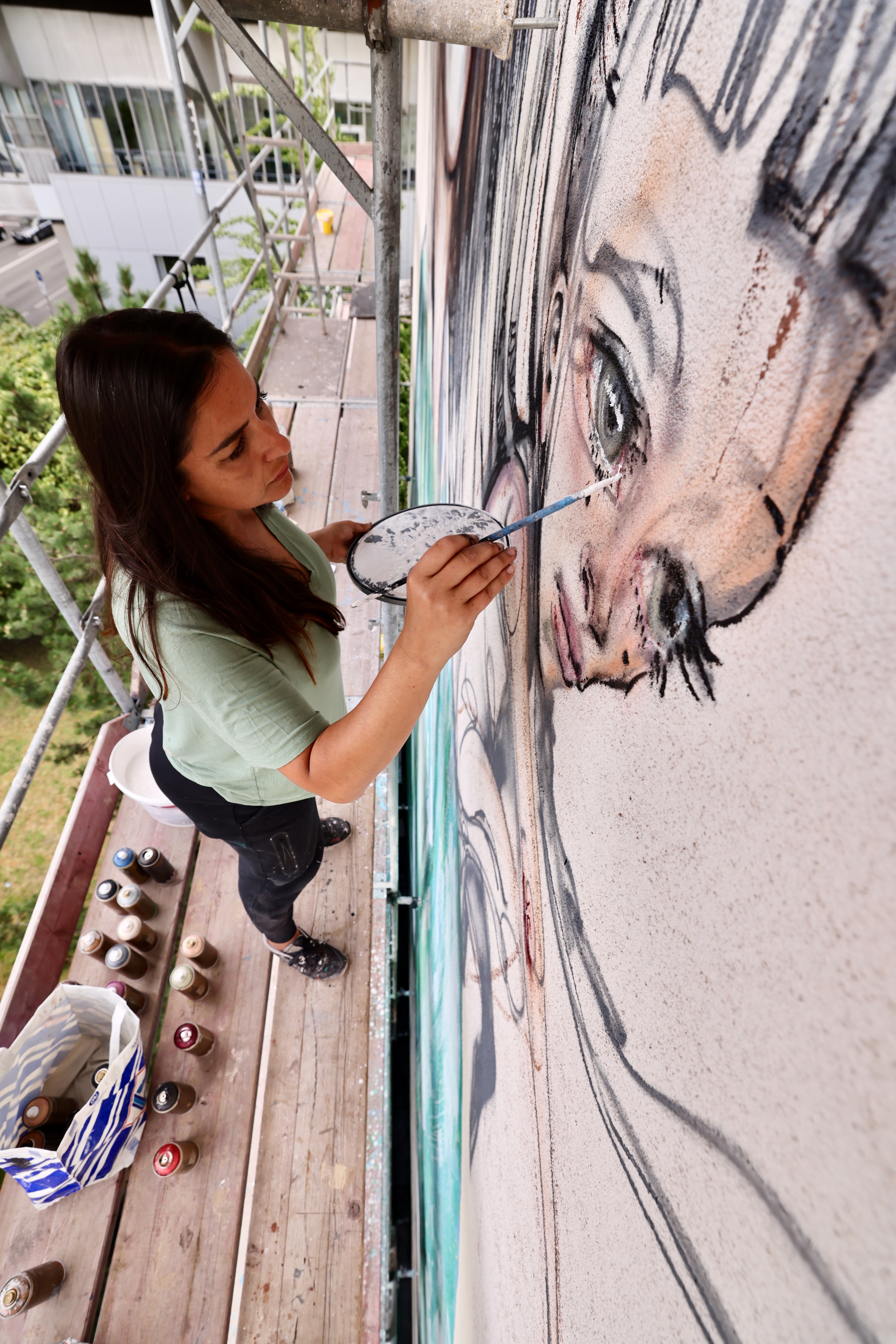 Convened by UN Women, Generation Equality is the world's leading initiative to accelerate investment and implementation of gender equality. It brings together organizations from every part of society to catalyze progress, advocate for change and take bold actions together.
The mural is the Fifth of the #GenerationEqualityMurals series curated by Street Art for Mankind (SAM) in Mexico City, Paris, New York, London and now Berlin. These series showcases empowered women street artists who represent, in their signature style, the concept of "women supporting women" and transmission.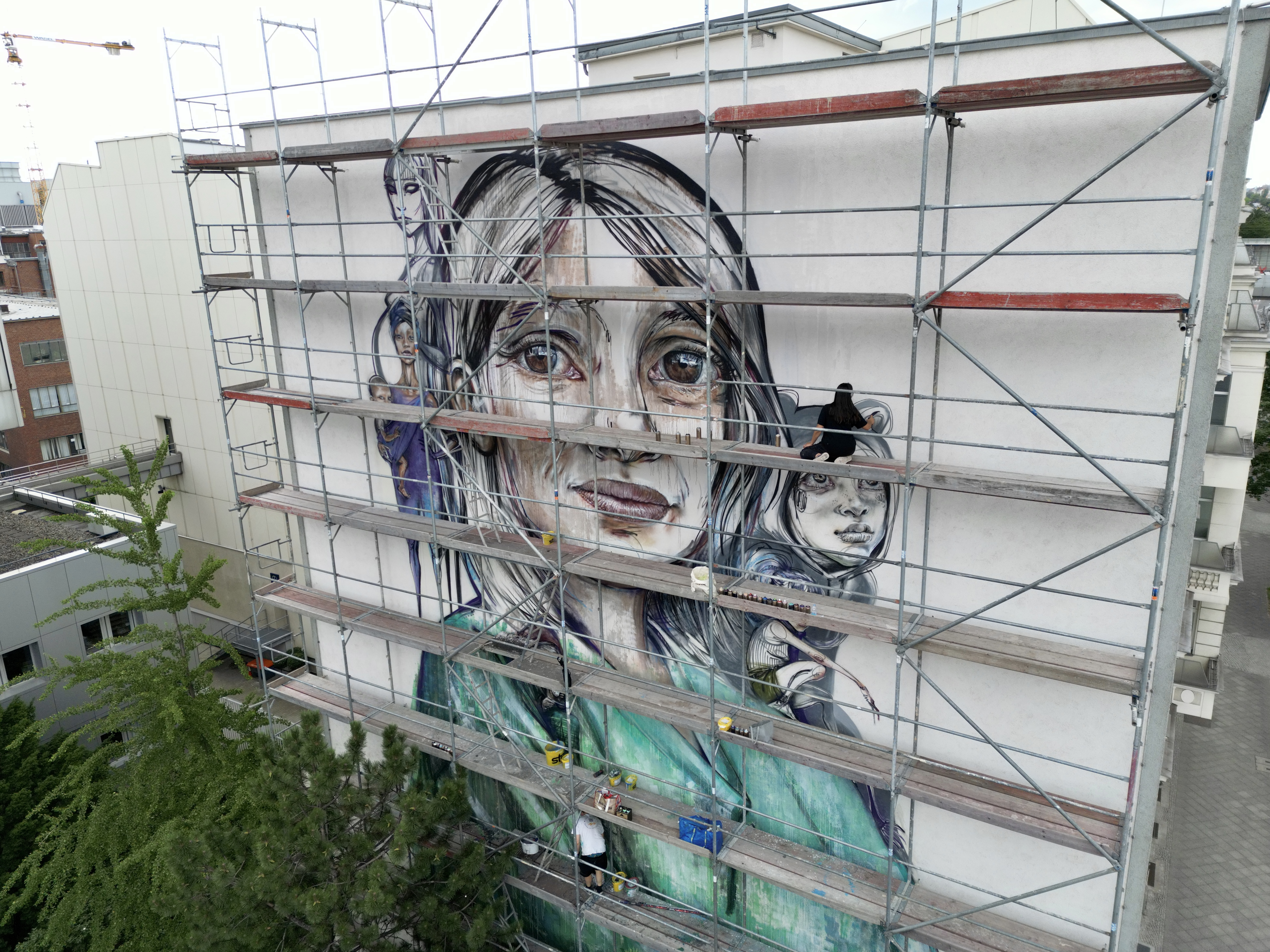 This 22-meter-high masterpiece in Berlin by HERA, one of the most prominent female artists of the Urban scene, reflects on the importance of intergenerational support to advance gender equality, and specifically on the essential role of women in the workforce and the care economy. The mural showcases a middle-aged nurse confidently crossing her arms over her chest. Serving as the backbone of her community and supporting women from all ages and ethnicities, she embodies strength and resilience. On her left shoulder, her daughters gaze towards the future, driven by ambition and prepared for upcoming challenges.
The Mural is activated by the SAM's free "Behind the Wall" app, working as an audio guide to learn more about the Art, educate on Gender Equality, and enable all viewers to act.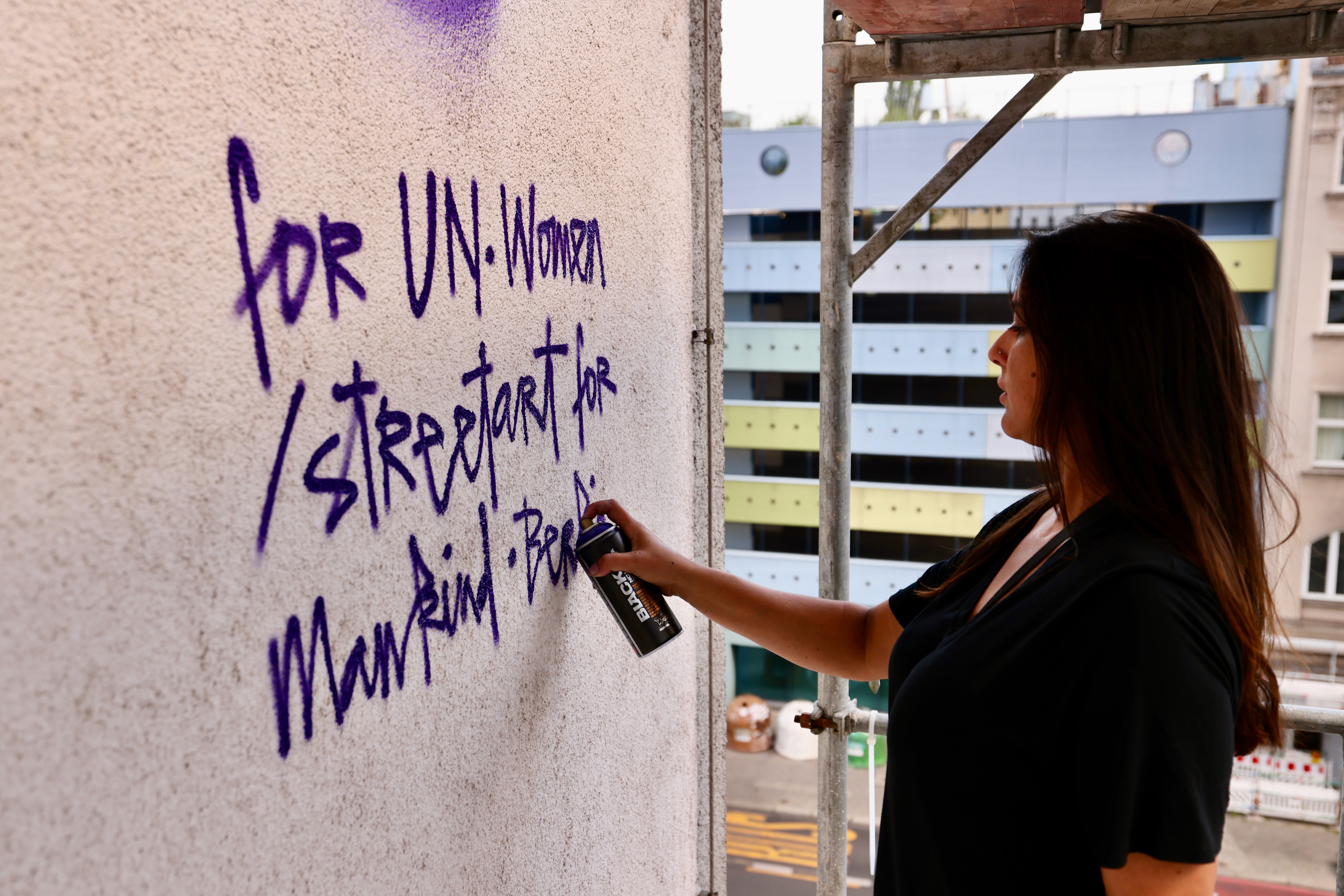 The Berlin Generation Equality Mural is made possible thanks to the drive and support of Bayer, a UN Global Compact company that also donated their wall for this mural.
To learn more about the Generation Equality Murals see:  https://forum.generationequality.org/generation-equality-murals and https://forum.generationequality.org/news/generation-equality-mural-london-revealed-un-women-manpowergroup-and-street-art-mankind-raise#:~:text=The%20Generation%20Equality%20Mural%20in%20London%2C%20painted%20by%20Alice%20Pasquini
QUOTES
UN Women
"In 2023, the overwhelming majority of care work in Germany is still done by women. Largely unpaid or underpaid, unquestioned and invisible. UN Women Germany advocates for a gender-just society and thus a balanced distribution of care work and paid employment. The gender pay gap must be closed. Care work needs to be more valued in society, better paid and made visible. We are pleased that the invisible is now being given a face here in public space in the form of this beautiful mural by Hera." Uta Hergenroether, Head of Berlin Office, UN Women Deutschland
Berlin Senate Department for Culture
"After Mexico City, New York City, Paris and London, we now also have an Equality Mural in Berlin. This mural is outstanding in every respect: Not only is it larger than life, but it also symbolizes the importance of equality and emphasizes the essential role of women, who in particular keep our care economy running." Joe Chialo, Senator for Culture and Community in Berlin
Bayer
"We are more than happy to have partnered up with SAM (Street Art for Mankind) and UN Women on this "Generations Equality Mural" project. Even more to have had Hera of Herakut as an artist designing our mural. Now this former empty wall will spread a powerful message of hope and empowerment and send a strong signal to our neighborhood and beyond." Dr. Stefan Klatt, Bayer AG, Site Manager Berlin
Street Art for Mankind
"Generation Equality is an unstoppable movement to support gender equality and so are we when it comes to empowering women and fighting for an equal world through art!  We are thrilled to partner with UN Women to raise awareness on this successful initiative since 2021. Every year is the opportunity to empower a new talented woman artist, reflect on the status of gender equality and push for more action. A huge thank you to Bayer for offering their support and great wall." Audrey Decker and Thibault Decker, Co-founders of Street Art for Mankind.
VENUE: 174 Müllerstraße, in Mitte, Berlin.
KEY DATES IN BERLIN: 
+ Production July 14th to 20th
+ Unveiling on July 28th at 2:00pm in front of the wall in presence of UN Women, the Berlin Senate Department for Culture, the Federal Ministry for Economic Cooperation and Development (BMZ), Bayer AG and Street Art for Mankind.  
---
ABOUT THE PARTNERS:
About Generation Equality: 
The 2021 Generation Equality Forum was a major global inflection point for gender equality. This landmark effort brought together governments, corporations and change-makers from around the world to embark on a 5-year journey to accelerate equality, leadership and opportunity for women and girls worldwide. At the Forum over 1,000 policy, advocacy and financial commitments for gender equality were secured and a historic USD 40 billion was pledged to make gender equality a global reality. One year on, those commitments have doubled to more than 2,000 and advocates are beginning the important work of ensuring accountability with a first progress report due for publication in September, at an event in conjunction with the UN General Assembly. Further details will be available closer to the date.
Learn more about Generation Equality here: https://forum.generationequality.org/  
Explore more Generation Equality commitments for gender equality using the Commitments Dashboard: https://dashboard.commitments.generationequality.org/
About Bayer: 
Bayer is a global enterprise with core competencies in the life science fields of health care and nutrition. Its products and services are designed to help people and the planet thrive by supporting efforts to master the major challenges presented by a growing and aging global population. Bayer is committed to driving sustainable development and generating a positive impact with its businesses. For more information, go to www.bayer.com.
About Street Art for Mankind (SAM): 
Street Art for Mankind (SAM) is a non-profit organization working with prominent street artists to create large murals all around the world. Its goal is to raise awareness of social justice and environmental issues and to give the public the means to become actors of change. Learn more at StreetArtMankind.org
CONTACT DETAILS: 
Generation Equality Forum: 
Miguel Trancozo m.trancozotrevino@unwomen.org |
Forum website:  https://forum.generationequality.org/home |
Social Media & follow-us on: 
https://www.facebook.com/unwomen     
https://twitter.com/UN_Women 
https://www.linkedin.com/company/un-women/mycompany/
Bayer: 
Thomas.helfrich@bayer.com and melissa.leopold@bayer.com
Street Art for Mankind: 
Audrey Decker or Thibault Decker: adecker@streetartmankind.org / tdecker@streetartmankind.org
Phone: +1-305-934-5501
Murals website: https://streetartmankind.org/generation equality | Social Media & follow-us on: Facebook, Instagram - @streetartmankind | Twitter @streetartmkind