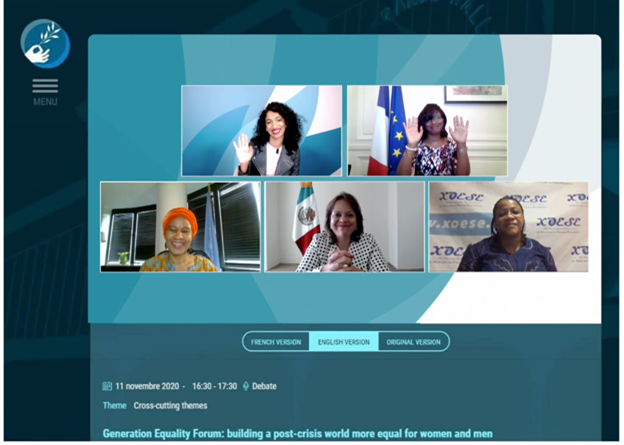 November 2020's Paris Peace Forum was an opportunity to highlight the critical role of the forthcoming Generation Equality Forum to center gender equality in 'building back better' from Covid-19. From 11 to 13 November 2020, representatives from governments, international organisations, civil society, private sector, financial institutions and more, gathered virtually through the Paris Peace Forum, an annual international event on global governance and multilateralism.  This year, the Finance in Common Summit, a global gathering of public development banks, took place alongside the Forum. Throughout these events the importance of gender equality was highlighted in building back better in the COVID-19 crisis context.
On 11 November, the panel "Generation Equality Forum: building a post-crisis world more equal for women and men" underlined the need to re-double efforts in the light of the new challenges posed by COVID-19. Massan D'Almeida, Founder, first President and Outgoing Executive Director of the Network of Women's Organizations in Francophone Africa highlighted that "we need to have greater capacity for civil society organizations because we know that the crisis didn't just have an impact on health, but there is a major economic crisis, and this means there is greater poverty".
Enhanced targeted efforts are required to safeguard women's rights throughout this crisis, and particularly those of women who experience intersecting inequalities. "Mexico is committed to a Generation Equality Forum that puts the rights of women and girls at the centre of attention, as well as the realities and structural challenges they face which have been exacerbated by the COVID-19 pandemic", said Martha Delgado, Deputy Secretary for Multilateral Affairs and Human Rights, Secretariat of Foreign Affairs of Mexico.
UN Women's Executive Director, Phumzile Mlambo-Ngcuka, also emphasized the importance of taking an intersectional and intergenerational approach to efforts to accelerate gender equality. "One unique feature of Generation Equality that excites me is that we have young people entrenched throughout the process, because there is no future without young people and their leadership", stated Phumzile Mlambo-Ngcuka.
The importance of multilateralism and multi-stakeholder co-operation was an overarching message of the session. "One of the objectives of the Generation Equality Forum is to make sure that concrete examples of multilateralism are shown and that we do more than just talk about them but have real actions so that things can move ahead towards achieving gender equality", emphasized Élisabeth Moreno, French Minister Delegate for Gender Equality, Diversity and Equal Opportunities.
During a pitch session, Delphine O., Ambassador and French Secretary General for the Generation Equality Forum, and Celine Mas, President of UN Women National Committee in France highlighted that the Generation Equality Forum will be the first global feminist meeting after the crisis: a space to show that even in these difficult times we can unite to help collectively shape and build a more inclusive and equitable world post COVID-19.
The Generation Equality Forum was also featured as an event partner of the Finance in Common Summit, hosted by the Agence Francaise de Developpement (AFD), which brought together 450 public development banks to examine the crucial role public development banks can play in building a more resilient and sustainable world, both during the COVID-19 crisis and in the long-term.
The Finance in Common Summit, through its Paris Development Banks statement on Gender Equality and Women's Empowerment, called for "accelerating the realization of gender equality and the empowerment of all women and girls through the international financial system as we enter the Decade of Action". It also recognised the substantive role of public development banks in the achievement of the Sustainable Development Goals (SDGs). In the response to the COVID-19 crisis, the summit reiterated the banks' role both in fulfilling SDG 5: "Achieving gender equality and empowering all women and girls", and in working to fully realize the Beijing Declaration and Platform for Action. "The Generation Equality Forum [is]…an important milestone for our collective effort to achieve gender equality and a decisive step to increase our collaboration", read the statement.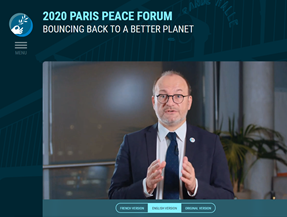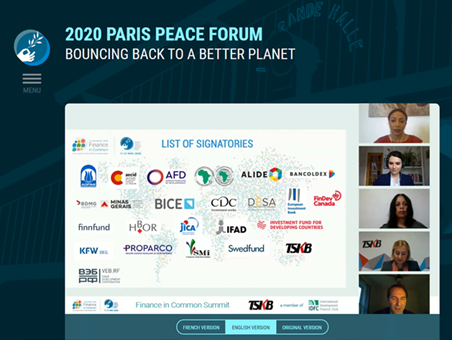 Caption: Remy Rioux, CEO of the Agence Francaise de Développement, introducing the declaration on Gender Equality and women's empowerment launched at the Finance in Common summit, during the panel "Development banks as actors for Change towards gender equality" on 12 November
The Generation Equality Forum is a multi-stakeholder initiative bringing together a wide variety of actors – including governments, international organizations, the private sector, civil society and youth actors - to adopt concrete solutions to advance gender equality in the next five years. Kicking-off in Mexico from 29-31 March and culminating in Paris in June 2021, the forum is convened by UN Women, and co-hosted by France and Mexico and in close partnership with civil society. The GEF will announce commitments and actions to achieve concrete, irreversible progress on gender equality.