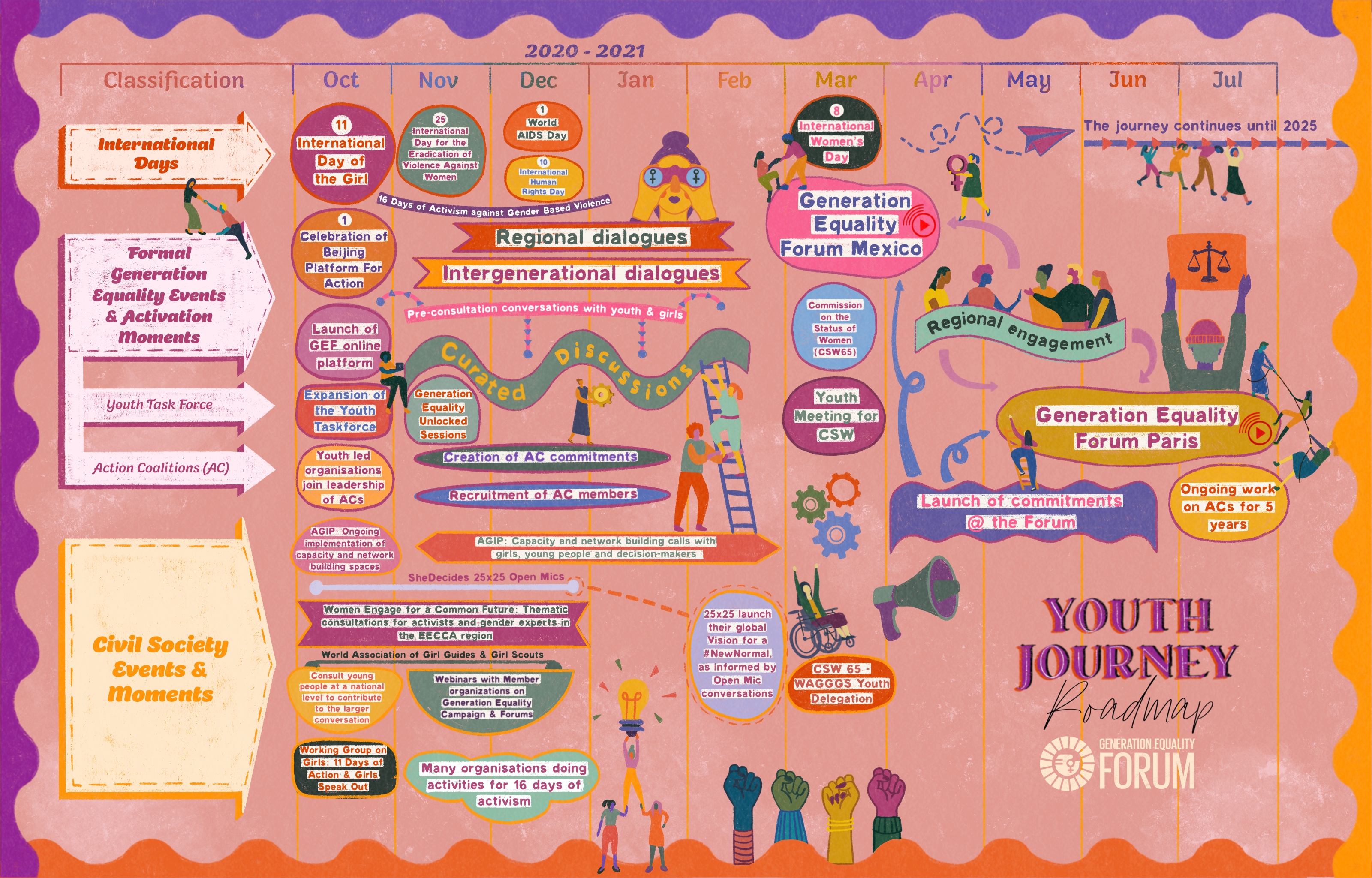 Generation Equality celebrates the 25th anniversary of the Beijing Platform for Action engaging the new generation in the fight for gender equality. Since its inception, UN Women's efforts have been focused on placing young people at the center of Generation Equality to make sure that they are in the driving seat of all galvanizing moments and processes.
UN Women is launching the Youth Journey as a roadmap for the Generation Equality Forum, created in collaboration with girls, young people, UN agencies, and Civil Society Organisations, spotlighting activation moments and opportunities for young people and adolescents to influence and lead the process. You can find all the information on a new site created for the launch of the Youth Journey:https://www.gefyouthjourney.org/ 
This journey begins as an answer to some of the questions that young people posed about such a complex, multilayered process: how are we going to engage? Will we be able to really influence? It intends to be a roadmap for young people to own Generation Equality, connecting the dots of the work in formal and informal spaces and adapting the key components of the Generation Equality Forum to the realities of young people.
Part of the journey is around strengthening outreach to a diversity of young people through smaller conversations that are intended to widen and deepen outreach to young people and girls with disabilities; indigenous; LGBTQI; and refugee and migrant.
The journey will provide a clear map of formal UN bodies as well as the governance structures of the Generation Equality Forum where young people are represented;  including   a timeline that lays out key activation moments where young people can influence and participate in; and carrying out a research on resources available for youth.
The journey comes with an exciting series of illustrations that will accompany the work, translating abstract concepts into powerful images. All the content will be available in Spanish, French and English.