Interview with Feminist Climate Activist and Action Coalition Leader, Ayshka Najib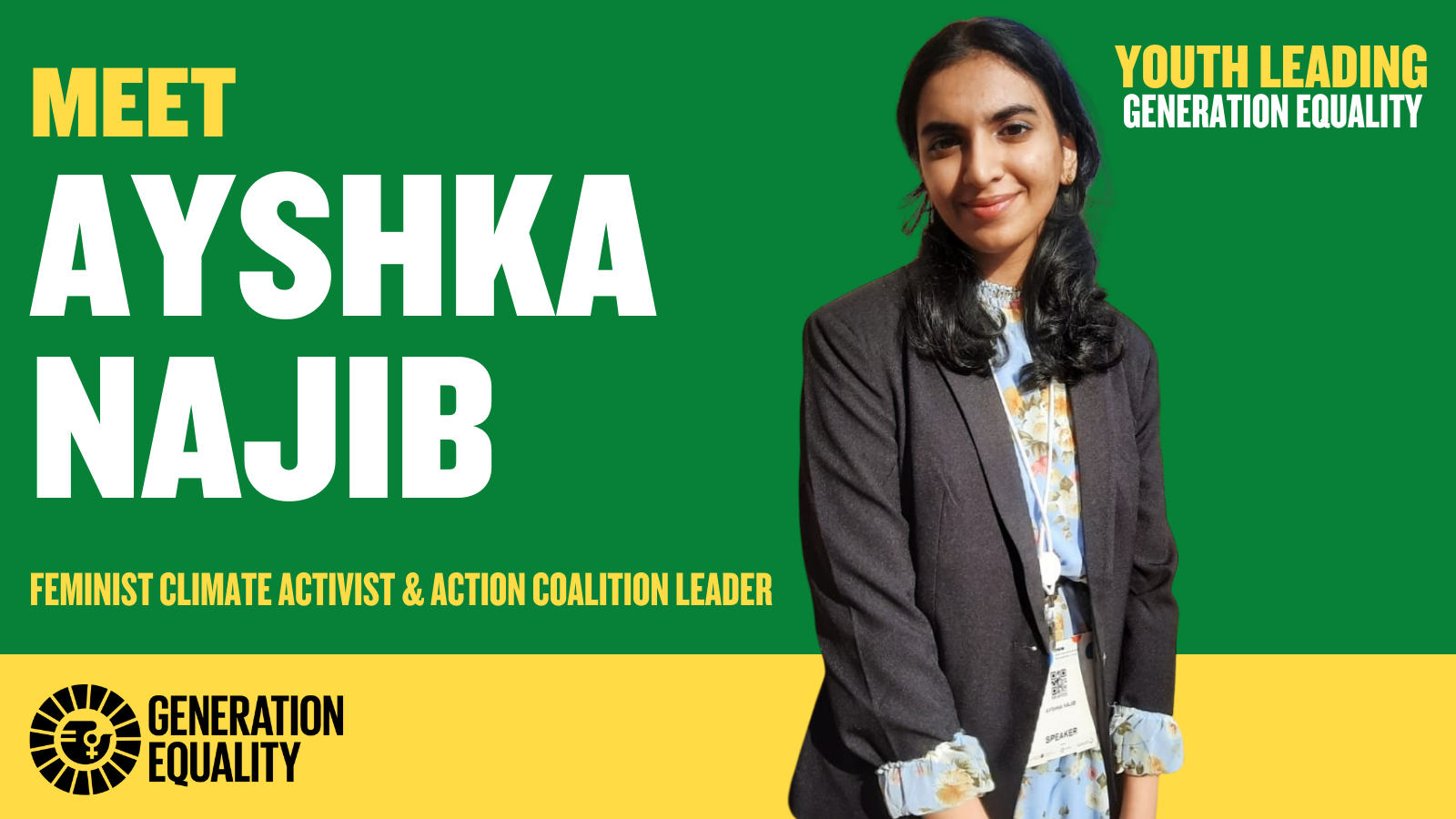 How would you define yourself as an activist?
I am a climate justice activist, originally from India and based in the UAE, so from the Global South. I identify myself as an advocate for MAPA (Most Affected Peoples and Areas), which are territories most vulnerable to the climate crisis, disproportionately affected by the structural and systemic intersecting systems of oppression. For many of us, climate justice is not a mere concept but a matter of life or death, so we need to make sure that grassroots are connected to decision-making policy levels. That is why I joined the Feminist Action for Climate Justice Action Coalition as a youth leader.
How did you start fighting for climate justice? Was there an awakening moment that made you become an advocate?
A lot of activists do have that moment, but not me. I knew about the climate crisis and used to write about it. Then, I saw how frontline communities that were affected by the climate crisis, like Black, Indigenous, and people of color (BIPOC) activists, were not the face of the movements; it was white activists from the Global North taking up most of the platforms. I felt I had to do something about it. Right now, I focus on making climate movements, spaces, and platforms inclusive and accessible to youth, especially BIPOC youth.
Let's talk about your role as Youth Leader of the Feminist Action for Climate Justice Action Coalition; how do you contribute to climate justice from that position?
I joined the Action Coalition as part of the global movement Fridays for Future. For us, the Generation Equality Forum represented one of the biggest opportunities for civil society to actively contribute to issues concerning climate crisis, gender equality and intergenerational equity. As a youth leader, I have seized all the opportunities I had to take the issues, resilience, and solutions happening at grassroots levels, to policymaking and decision-making spaces. Because, if there is a big gap between implementation and what has been discussed, we are not going to move forward. For example, I was heavily involved in CSW 66, where I contributed as a co-author to the Global Youth Recommendations. We took these demands to spaces such as the Vienna Cafe negotiations, NGO briefings, etc. And I was able to do all this because of the resources and platforms that my Action Coalition provided me with, so I feel the Action Coalition is a great space to mobilize and engage a huge population of civil society and youth that's doing incredible work on the ground.
The youth leaders of the Action Coalitions have been working hard on issues of accountability including the accountability framework. Can you speak about the importance of holding stakeholders accountable?
Thank you for that question; it is critical! As I mentioned, there is a huge gap between implementation and the policies that are being developed, and a step to close that gap is through accountability, holding stakeholders engaged in making policies and commitments accountable to get things done. We worked hard on the accountability framework. We wanted to make sure that, as we moved ahead, our accountability system was focused on equity, decolonizing, and making sure that frontline voices were amplified and uplifted.
For example, if a private sector company joins the FACJ Action Coalition and makes commitments, we want to make sure that these are not just performative. They must be proactive, work with communities and ensure the commitment gets done.
What are the key actions and priorities you envision for the 5-year journey of the FACJ Action Coalition?
One major aspect is funding. Is there enough money and resources going towards climate justice, gender equality, and intergenerational equity? We want to monitor and analyze as we move forward. Secondly, we want to make sure that there is representation of grassroots leaders in spaces such as COP, CSW, Stockholm+50, etc. In all these spaces, FACJ Action Coalition members have been engaging to discuss climate justice and gender equality and intergenerational equity. And we obviously want to move forward toward climate justice, ensuring that policies and actions coming out of public and private sector stakeholders act on the climate crisis. So, I hope these are things that we will achieve moving forward.