Interview with former Generation Equality Forum Youth Task Force Member Salam Al-Nukta around World Skills Day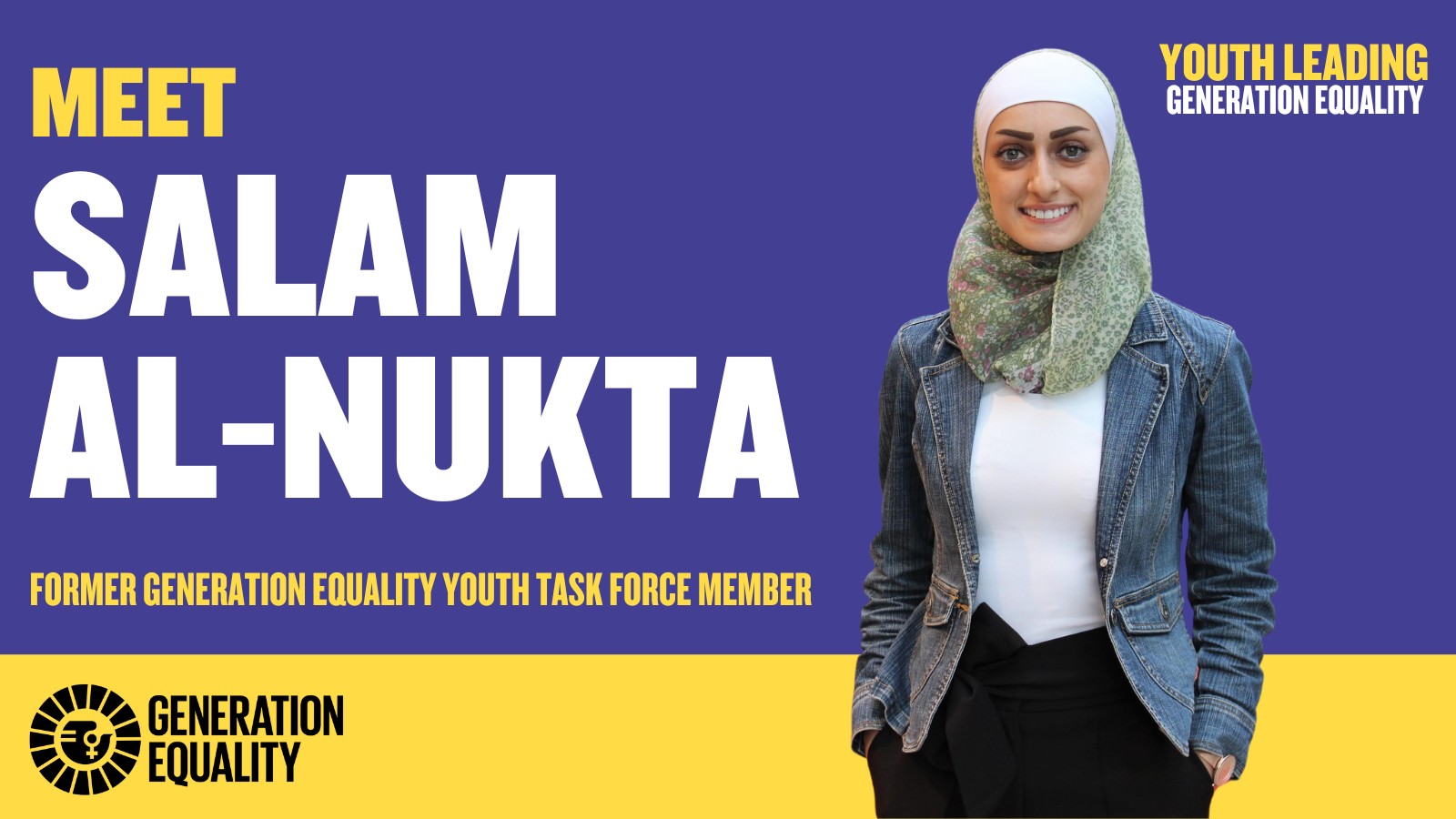 What type of activism do you engage in, and what inspired you to begin?
In 2011, after the Syria Crisis exploded, I started to witness the destruction and economic deterioration of my country. The gender gap in employment, education and Science, Technology, Engineering and Math (STEM) was also obvious and only got worse after the crisis. Whilst I did not know anything about entrepreneurship and its economic and social impact on communities, I was interested in bringing about positive change in my community. My advocacy journey took many forms– from working as a volunteer, to participating in local/ international workshops, to becoming an entrepreneur and professional worker. The main advocacy issues that I focus on are women's economic empowerment and STEM education.
How do you help others develop their skills?
Through my work I focus on (untraditional) education. Skills are not only taught at school but are also picked up from our day-to-day life, at home, at work, even at the gym or on a fun day out. I enjoy mentoring younger people, and 'asking the right questions' is an important tool I use as part of my mentorship. I believe that if people do not ask the right questions, they will never get to what they want. Additionally, via the previous startups that I have co-founded, "The Entrepreneurial Summer School" and "ChangeMaker," we have helped more than 100 young people build various skills, such as programming, analytical thinking, communication, and research.
What is the impact you are seeing as a result of this work?
In 2015, I founded "The Entrepreneurial Summer School," aiming to foster an entrepreneurial mindset in young people and stimulate their innovation in identifying local issues and solutions. "ChangeMakers," a startup I founded in 2016 that is still operating online, aims to reduce the gender gap in the tech field and support emerging young leaders, especially women. With over 50 graduates from ChangeMakers boot camps, we empowered 3 young people to pursue their higher education abroad through international scholarships. More than 5 young people started their own tech-based or social enterprises that aim to tackle global issues and contribute to the achievement of the Sustainable Development Goals. This means that young people are not just able to generate income for themselves by doing freelancing projects, but are also creating jobs for others.
What sort of barriers are there to youth obtaining skills? How do you work around these barriers?
Learning a new skill is easier said than done, especially for underprivileged youth who struggle with accessing basic human rights, such as access to a stable internet connection. It is heartbreaking to listen to the struggles that youth in war-torn countries have to face every day to build their skill sets. Given that I come from Syria and my husband is originally from Yemen, we always hear stories about how people could spend days without access to the internet, how the absence of online banking prevents participation in any paid opportunities online, about struggles with insufficient funds and technical infrastructure, and limited accessibility to online resources. Before I moved to the Netherlands, I used to struggle with all of these issues too.
How can Generation Equality support young people in developing their skills?
Having been part of the Generation Equality Forum's Youth Task Force (YTF), I was exposed to several opportunities that contributed to developing my skills. The YTF was given the space and support to learn by doing, from writing official letters to high-level policy workers, to organizing and conducting events. I'm a strong advocate for learning by doing because it doesn't only focus on theoretical knowledge but enables youth to put whatever they are learning into practice. Moreover, as part of the YTF, I was able to transfer opportunities to others through opportunity-sharing platforms and nomination. This meant that the learning opportunity of Generation Equality did not stop at individuals, but could be shared with those who needed and wanted it. This continues to take place for most youth engaged in the Generation Equality Journey.