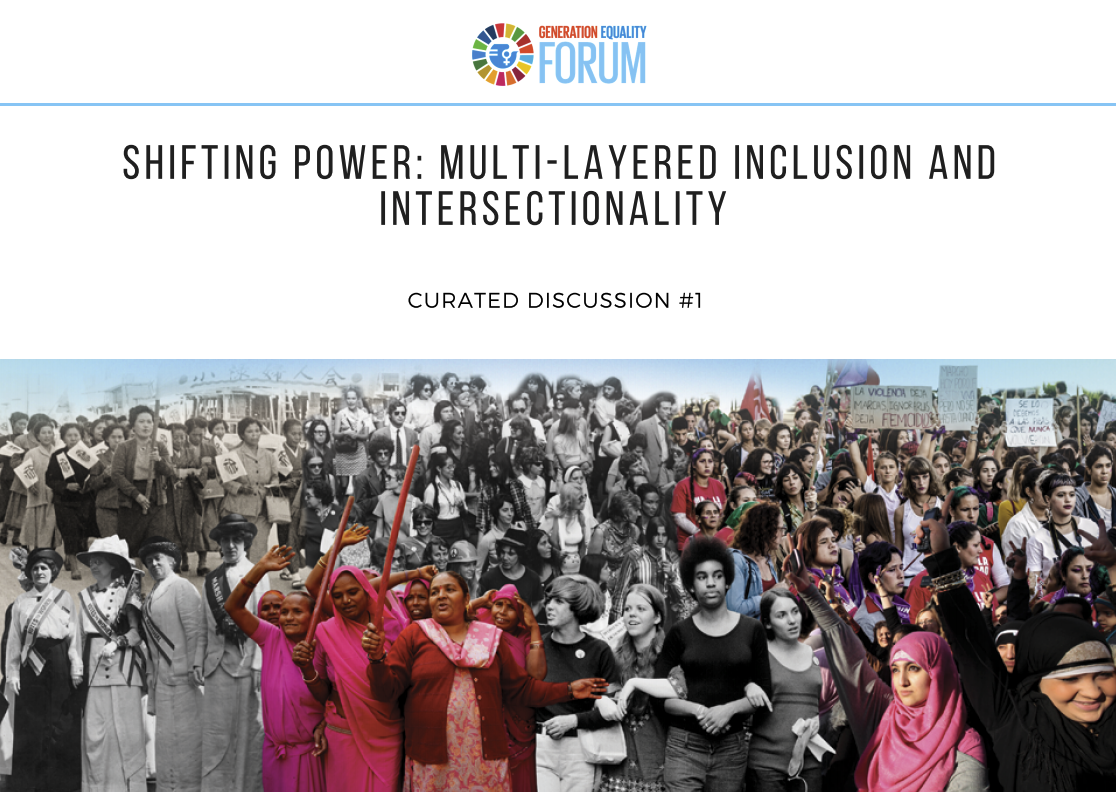 As part of the journey leading up to the Generation Equality Forum (GEF) in Mexico City and Paris in 2021 UN Women is hosting the GEF Curated Discussions, a series of multi-stakeholder, multi-generational gatherings to foster dialogue among gender advocates from around the world. The Curated Discussions will address and provide insights on topics of relevance that will inform the GEF, including tangible recommendations for the design of GEF events and programming, as well as sharing of best practices to foster movement building for gender equality.
The first Curated Discussion to kick-off this series took place over two virtual sessions in late September 2020 and addressed the topic of "Multi-layered Inclusion and Intersectionality".
This important topic was chosen in order to reflect on the fact that we are living in an increasingly complex world with multiple forms of discrimination and intersecting inequalities. This reality has been exemplified clearly in the differentiated impact of the COVID-19 crisis, where the needs of marginalized groups remain overlooked and unaddressed. It is therefore vital to further develop strategies to centre the principles of intersectionality and inclusion in the GEF. By unpacking these issues and what they mean for different constituencies, and developing concrete recommendations, the Curated Discussions can help ensure that concepts such as intersectionality do not remain abstract but are instead concretely reflected and addressed as we build multi-stakeholder alliances and determine the design and substance of the GEF.
The two sessions hosted approximately 100 attendees from diverse age groups, locations and backgrounds, cultivating a rich discussion. First, participants 'unpacked the problem' in breakout rooms, tackling questions on how to define or categorize intersectional inequality and identifying its main causes and drivers. Following this, the focus shifted to 'creating the solution', where activating questions focusing on issues such as data collection, inclusion in political and economic decision making, strengthening the global human rights system against intersectional discrimination, and much more, fuelled participants to define a number of actions to tackle obstacles to achieving gender equality as they manifest in the world today. Finally, participants thought about how the issues raised and addressed throughout the Curated Discussion could be reflected in the GEF and the Action Coalitions, resulting in the defining of nine key recommendations that will inform the GEF discussions in future.
The outcome report from the first Curated Discussion is now available, allowing you to delve deeper into the reflections and proposals laid out by the diverse partners in attendance, as well as offering a snapshot into the dialogues by our opening speakers, featuring eminent feminist scholars and civil society activists.
Explore the outcome report here  Read in Russian  Read in Arabic