This editorial series provides a glimpse into the work of the Generation Equality Action Coalition Leaders as they work to develop catalytic actions and commitments to advance gender equality.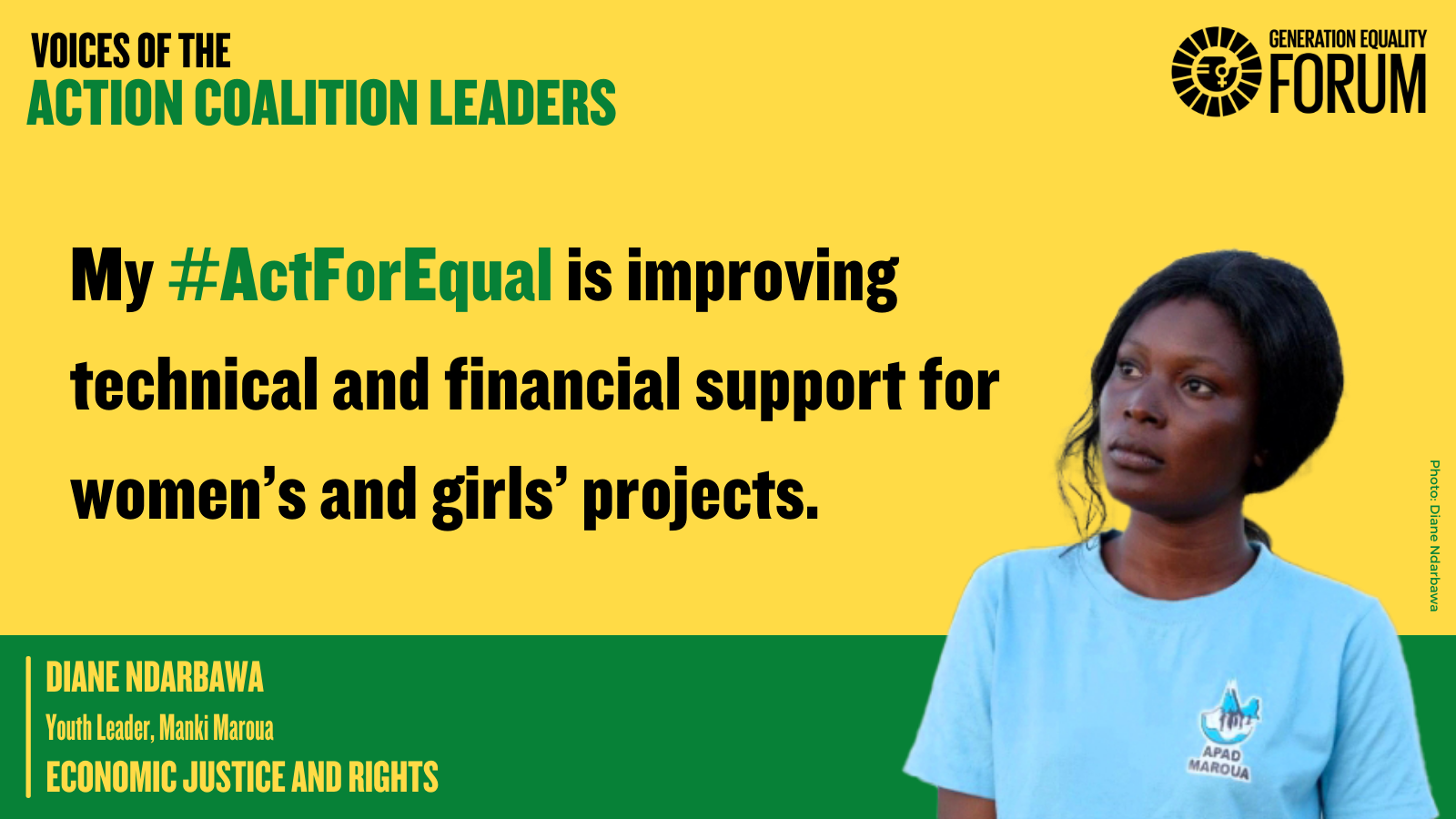 Name: Diane Ndarbawa
Action Coalition: Economic Justice and Rights
Role and Organization: Manki Maroua
Why has your organization committed to playing a leadership role in the Action Coalition on Economic Justice and Rights?
Our organization joined this Action Coalition in order to defend women's rights locally, regionally and internationally. We want to actively participate and make our voices heard on behalf of the women and girls of our community, so that they can have access to decent work, a professional career, a business—and most importantly so they are not left behind.
As young people, the Action Coalitions are giving us the opportunity to express our expectations and generate ideas for future change. Throughout the working sessions I have also been able to continue learning about central issues on the theme of economic justice and rights, for example how crucial it is to reorganize the care economy in order to ensure that women have decent jobs and equal opportunities to get work.
What would be an ideal outcome of the Generation Equality Forum?
The Generation Equality Forum offers the opportunity to lift up the work of organizations that fight for the rights of women and adolescent girls, and especially the projects that focus on empowering vulnerable and marginalized women. I hope that the work of young people also continues to be championed, and that youth are given a space where their views and ideas are listened to closely, whilst taking into account their diverse cultural and geographic parameters.
I hope that a key outcome is that discussions then become backed up by technical and financial contributions to young people in order to support them in their innovative projects, particularly in Africa but also all around the world. It is critical that commitments are put into action, so we can achieve real change. 
What are the most important actions that can be taken to achieve economic justice?
A priority focus should be on advocating with governments to ensure that laws in favor of women are adopted. Legal change is needed urgently, because it will significantly speed up progress on gender equality and contribute to economic justice, as well as safeguard this progress in the long term. Another key action that would drive progress is supporting the organizations that are actually working in the field, for example those that offer expertise and financial backing to girls and women entrepreneurs. 
Driving innovation is also important. One of my organization's primary objectives is to maximize the contribution of digital technology towards transforming the daily lives of adolescent girls in our region. The use of technology needs to become widespread to support all our income-generating activities, and the voices of women from diverse backgrounds need to be placed at the heart of technological innovation. Finally, all these actions must be placed in the broader context of the fight against climate change, which means that respecting and protecting the environment should always be a cross-cutting priority.
What personally motivates you to continue working for change?
What motivates me is the desire to benefit adolescent girls and women in my community. I want to contribute to financially empowering the women and girls in my area and to support their professional integration. Overall, I am working every day to achieve respect for women's economic rights, as well as to see the protection of the rights for women involved in economic activities, such as through the improvement of their working conditions.
Being an Action Coalition Leader has allowed me to raise the voices of women in my community and to bring our ideas and expectations for action to the international level. We hope that by participating in the Generation Equality Forum we will contribute to remedying the difficulties encountered by women and girls on a daily basis.
Read more about the Action Coalitions here.