This editorial series provides a glimpse into the work of the Generation Equality Action Coalition Leaders as they work to develop catalytic actions and commitments to advance gender equality.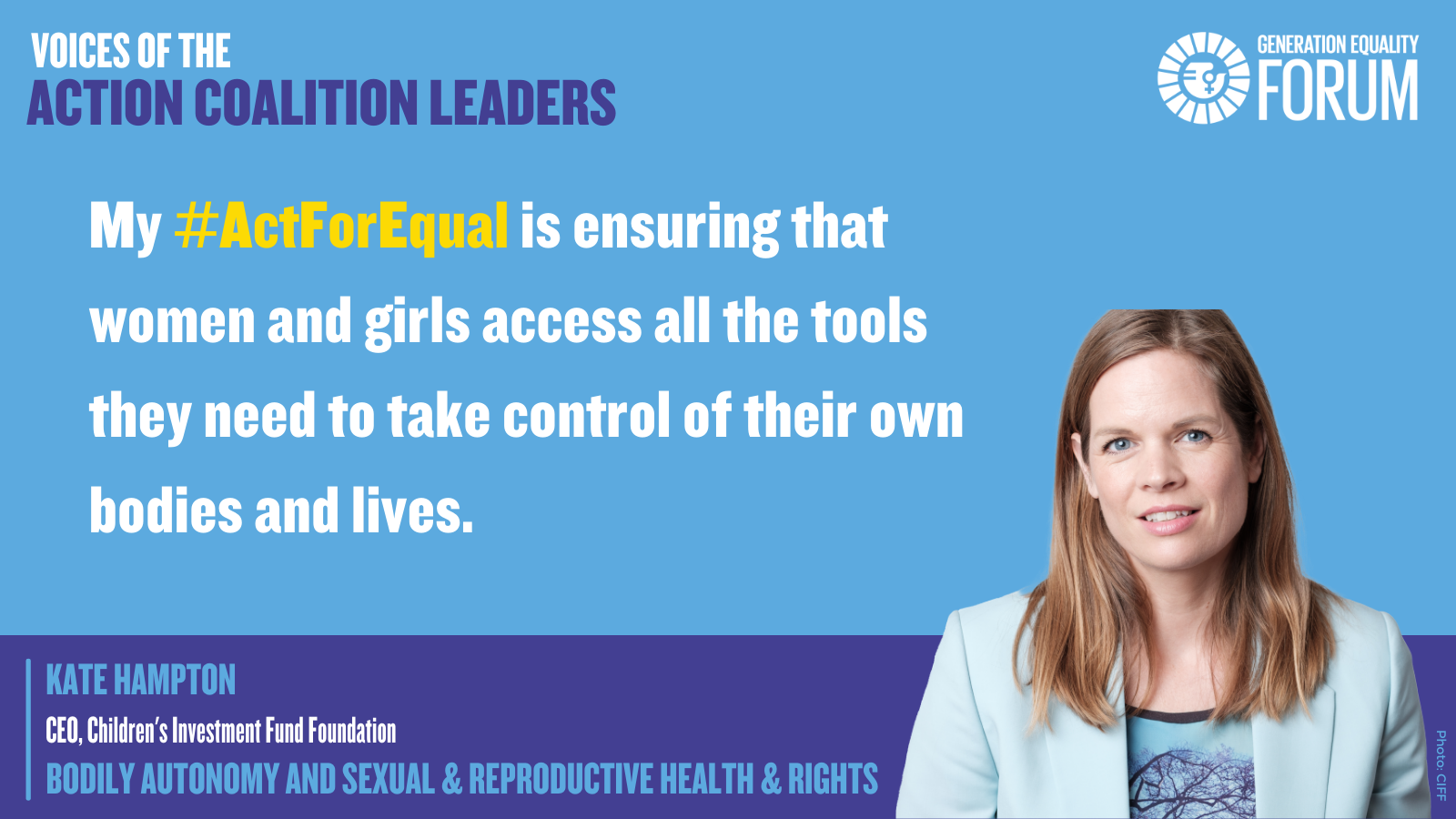 Name: Kate Hampton
Action Coalition: Bodily Autonomy and Sexual and Reproductive Health and Rights
Role and Organization: CEO, Children's Investment Fund Foundation (CIFF)
What do you hope will be the main outcome of the Generation Equality Forum?
I hope that the Generation Equality Forum serves to make gender equality a political priority across the world. As we build back from COVID-19, there's a real opportunity to place women and girls at the heart of recovery but achieving this will require the highest level of leadership to put gender equality on the agenda. This makes the timing of the Generation Equality Forum really exciting, as it represents an important global 'moment' to drive ambitious commitments and tackle the pushback against women's and girls' rights.
It is my belief that investing in women and girls will deliver big economic and social returns for countries and societies. When women and girls can decide about their bodies, their lives and their futures, our communities become more resilient and prosperous. I hope that the Forum serves to highlight that investing in gender equality is not only fair, but also smart and necessary if we want to recover fully and sustainably from the pandemic.
I also hope that the Forum widens the base of supporters and advocates for gender equality and contributes to building strong coalitions across sectors. Young people and feminist movements have a particularly important role to play in breaking down silos and mobilising marginalised voices.  
Why did CIFF sign up to play a leadership role in the Generation Equality Action Coalitions?
We are big believers in multi-stakeholder partnerships. In my view, social and political change requires multiple viewpoints and multiple levers. If you really want systemic change, you have to take a whole-of-society approach, one that is not narrow, purely political, or purely technical, but instead offers a really integrated way of approaching key issues. That's why I like the Action Coalition process, because it brings together diverse stakeholders, skills and experiences to deliver a comprehensive outcome.
It is crucial that this diversity of perspectives is driven forward into implementation. The Forum is but the start of a five-year process and we must make sure that this process is underpinned by a strong accountability mechanism that holds all partners accountable for delivering on their commitments.  
What actions are you most excited to stand behind to achieve progress on Bodily Autonomy and Sexual and Reproductive Health and Rights?
One of our priority actions is leveraging the potential of self-managed care, for example by making HIV self-testing or self-injectable contraceptives more widely available and accessible so that women and girls can take control over their own reproductive health. During the pandemic we've seen how important it is to expand opportunities for self-managed care when health services are interrupted. We are in a key moment to shift the way sexual and reproductive health services are thought of and provided.
In our Action Coalition we are also looking at a new sexual and reproductive health market access initiative to tackle gaps in supply of sexual and reproductive health commodities. For us, bodily autonomy is not just about removing individual friction in securing services but also about shifting the broader market systems within which decisions are taken about what services to provide for whom and where. Central to this effort is placing the perspectives and needs of women and girls at the centre of decision-making, rather than treating them as an 'afterthought'
Challenges in the current funding landscape for sexual and reproductive health and rights make these initiatives even more vital and we are motivated to work with governments and other partners to 'step up' for women and girls worldwide.
What motivates you personally to keep driving for change?
I see so much potential in the cadre of exciting, dynamic, visionary girls and young women in the world. I feel we have a responsibility to create an environment to help them to realize their vision, which is filled with real hope and potential for change at a time where a lot of things look like they're moving backwards. I'm hoping that the Generation Equality Forum will highlight the voices of these young women, build their momentum and energize the broader movement, which is very much needed as we look to rebuild from this pandemic. Every single girl that we lift up and invest in is going to have a huge impact on her family, community and country, and this is extremely motivating for me.
Read more about the Action Coalitions here.