This editorial series provides a glimpse into the work of the Generation Equality Action Coalition Leaders as they work to develop catalytic actions and commitments to advance gender equality.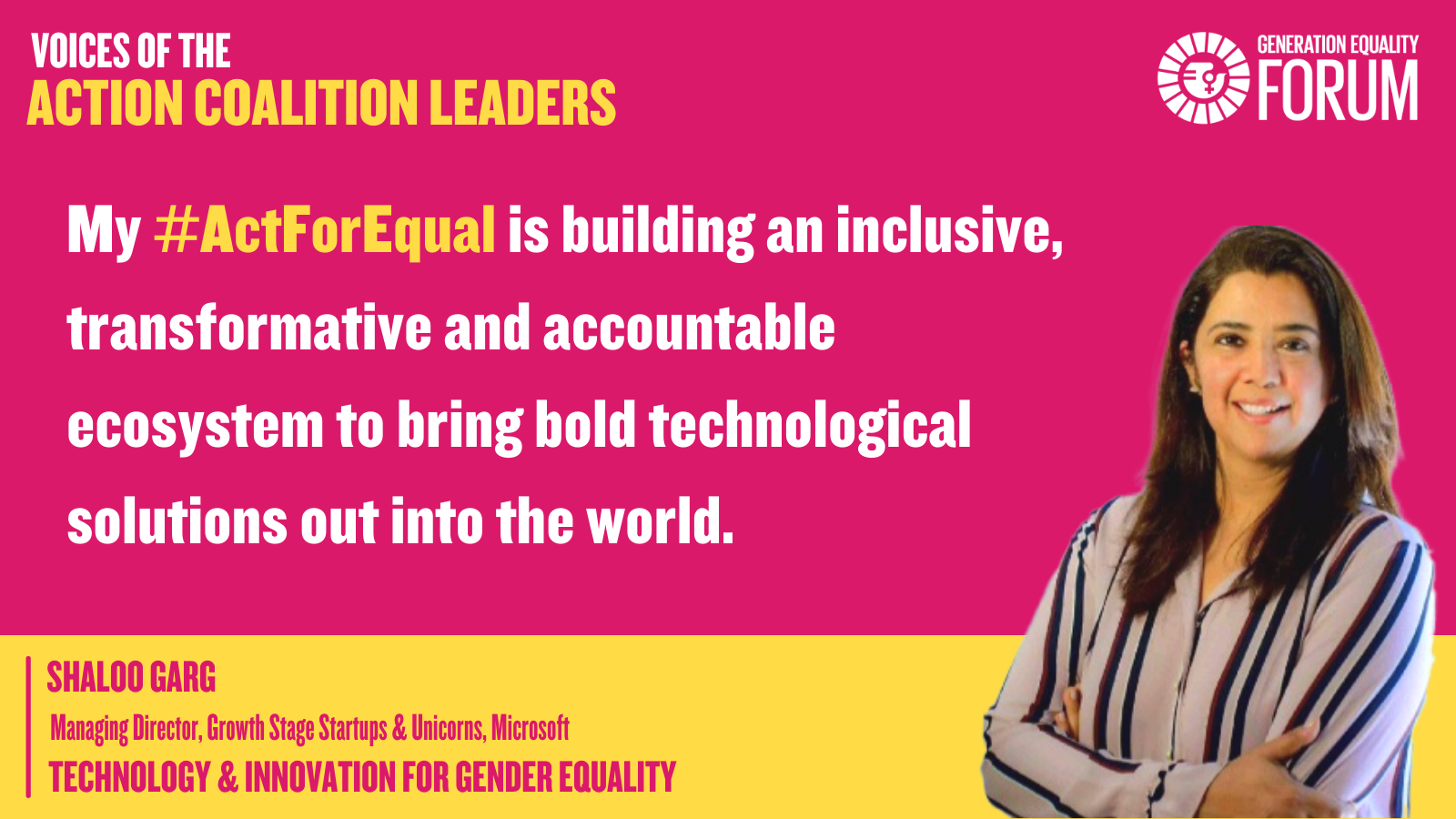 Name: Shaloo Garg
Action Coalition: Technology and Innovation for Gender Equality
Role and Organization: Managing Director, Growth Stage Startups & Unicorns, Microsoft
What has your experience been like so far as one of the diverse leaders of the Action Coalition on Technology and Innovation?
Being involved in the early discussions with the Action Coalitions was energizing because were hyper-focused on process, which kept the team centred on building concrete actions and marching towards a collective goal.
I leveraged my expertise by helping to show how technology can play a role in tacking gender equity at scale.  There is beauty in all of the different perspectives, especially the youth-led organizations that add a whole new dimension to the way we approach gender equity for the next generation.
The speed and efficiency we are moving at while collaborating with representatives from across the globe is incredible. This pace of progress is due to the new and innovative ways of working online, but it is also thanks to the fact that the people taking part in the action coalitions are passionate from their heart.
What inspired you to engage in the theme of Technology and Innovation?
I was born in India and I grew up in the Middle East. When I was in the 6th grade, I was friends with a girl of the same age who lived next door. Every day I would travel to school on the bus with her brothers, but my friend didn't come with us and was kept home instead, which bothered me deeply. What motivates me is thinking of that childhood friend of mine. She drives me every single morning to ask what action we can take to bring the world closer together.
I believe technology is the strongest catalyst for change in our community, our society and our economy. For example, technology can offer us a way to bring education to young girls who can't access it due to local social and economic factors, such as a lack of female bathrooms in schools. By leveraging technology through the action coalition platform, we can bring solutions into the real world.  
In order to extract the true value of technology, we have to be open and vulnerable to exploring the power of innovation. Innovation is not just building something out of an idea. It is bringing the best 'out' of the idea which addresses a specific challenge. I work with a lot of startups and have grown to appreciate this culture of innovation and pushing the envelope.  We need to bring that mindset to see transformative change in achieving gender equity.
What do we know about what actually works in bringing about change through Technology and Innovation?  
The number one thing I have seen consistently work is being bold and challenging the status quo. We have to keep asking difficult questions, such as why girls are being trafficked, and then think how we can use technology to help put an end to this atrocity. By leveraging tools like artificial intelligence, big data and machine learning, we can start to tackle this issue and many of the other huge societal challenges in the world. The second thing that works is building a sense of community. Nobody can single-handedly mobilize a movement of change, instead you must build a community and work as a team. Finally, I have something I call 'go big or go home' – if you really want to leverage technology, don't be shy. Technology has the capability to build solutions at scale, and that is something we need to tap into by thinking big.
What action are you most excited to stand behind in the Action Coalitions?
I am most passionate about building an inclusive, transformative and accountable ecosystem.
With the Generation Equality Forum we are encouraging folks to learn from one another and to advocate collectively. Creating durable change is not easy, and but with the power of data, we can generate concrete evidence showing what works, what doesn't work, and what we need to do differently to achieve the transformative change we are after..
One of the things I am most excited about is setting targets We are focusing on bridging data and accountability, so thinking about how we can measure all of the work that we are doing is vital to ensure real success.
Read more about the Action Coalitions here.