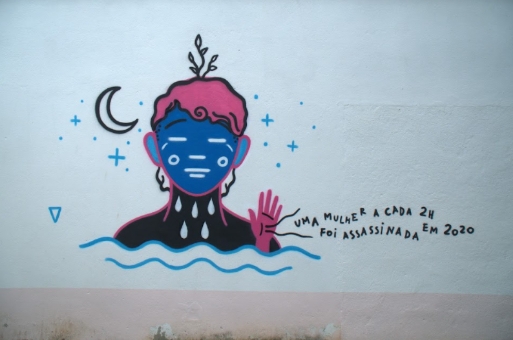 In July 2021, the Generation Equality Forum mobilized high-impact commitments, made around the world by Governments, international organizations, feminist and youth-led organizations, private sector, and philanthropies to accelerate actions for gender equality and women's empowerment. These commitments are, aligned to the objectives of the six thematic Action Coalitions and the Compact on Women, Peace and Security, and Humanitarian Action. One of these Action Coalitions was launched to work on Gender-Based Violence (GBV) and accelerate global efforts to eradicate violence against women and girls by 2026.
The Action Coalition brings together actors from all sectors of society around concrete financial, programmatic and policy commitments to move the needle on GBV. Their actions range from scaling up survivor support and prevention services to ensuring women's rights organizations are resourced as well as developing grassroots solutions.
 Violence against women and girls remains the most pervasive human rights violation around the world. Already heightened by the COVID-19 pandemic, its prevalence is now being further increased by the intersecting crises of climate change, global conflict and economic instability.
Against this setting, a backlash against women
's rights is underway around the world. The Generation Equality partners and leaders across all sectors are stepping forward against this pushback through the Action Coalition on GBV with more than 1,000 commitments in all regions of the world.
We celebrate the key actions and investments made to end violence against women and girls, and we encourage everyone to join and support the Action Coalitions and push forward for women and girls' rights. Learn more about the progress made by the Action Coalition on GBV, its leaders and commitment makers on the first year of implementation.
Kenya takes a stand to end gender-based violence and female genital mutilation by 2026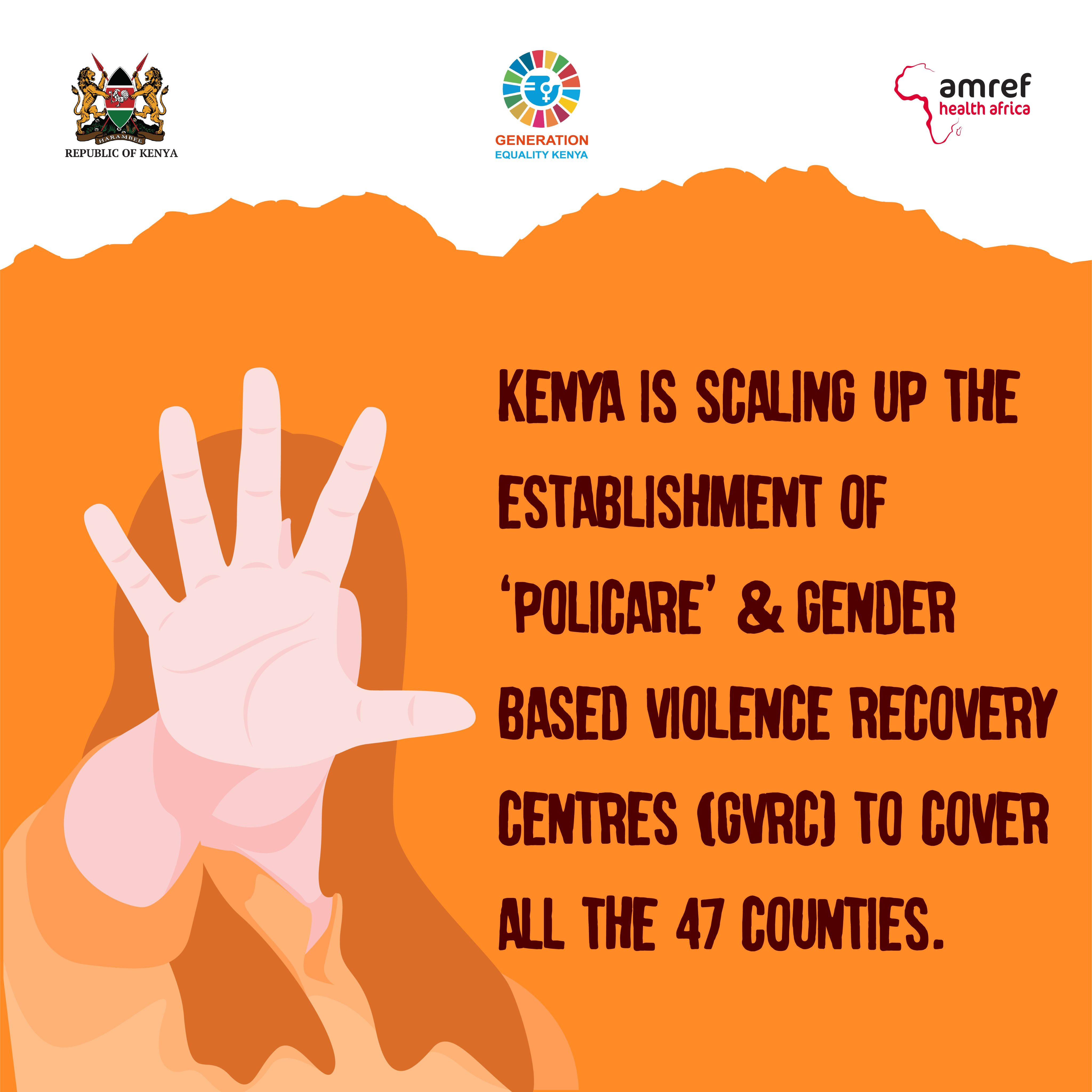 As one of the GBV Action Coalition Leaders, the Government of Kenya has made 12 commitments aiming to end all forms of GBV and female genital mutilation (FGM) in the country by 2026. These range from strengthening gender data through the introduction of FGM and GBV indicators in the 2022 Kenya Demographic and Health Survey to allocating KSH 100 million annually for research and innovation to boost evidence-based reduction and prevention programming. These commitments offer great hope in a country where nearly 1 in every 5 girls has been subjected to FGM.
In the first year of implementation, Kenya has expanded its GBV data collection and established an emergency toll-free line for assistance with GBV and general emergencies. As a result of the commitments made by the Government of Kenya, progress was realized in the following commitment areas: • Development of guidelines for the establishment of Gender Based Violence Recovery Centres (GBVRC's) .
•          Establishment of Sexual and Gender Based Violence (SGBV) integrated centers (Tumaini clinics)  in some County health facilities in Nairobi to address SGBV cases. Thirty-eight (38) Tumaini clinics are currently operational.
•          Establishment and operationalization of an Emergency Operation Centre (EOC) toll free line 1508 for GBV and general emergency responses.
•          Establishment of fifty-four (54) Private shelters and GBV rescue centres are operational in 18 Counties- Kiambu, Nairobi, Nakuru, Nyeri, Kajiado, Kisumu, Tharaka Nithi, Murang'a, Kwale, Makueni, Mombasa, Machakos, Kilifi, Samburu, Migori, Laikipia, Busia and Meru.
Learn more about Kenya's progress and impact here and Follow Kenya's progress on Generation Equality on Twitter: @GenEqualityKe  
Data and technology to make streets safer for women in Delhi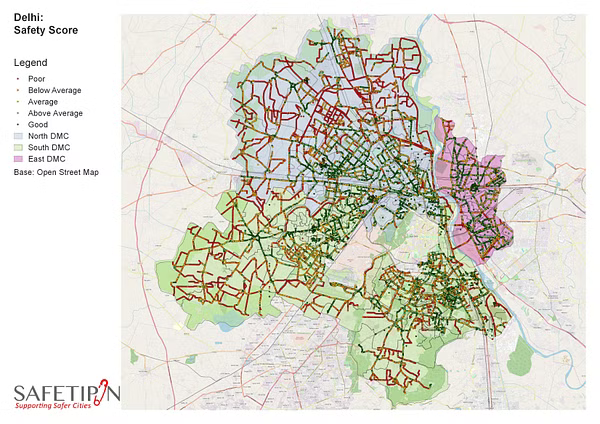 As a leader of the Action Coalition on GBV and a member of the Global Coalition on Inclusive and Safe Spaces and Cities for Women and Girls, the organization Safetipin works to create transformative change by making public spaces safer for women. Safetipin has collaborated with governments in several cities globally to ensure that gender responsive urban interventions work towards safer and more inclusive cities.
Advancing their Generation Equality commitment, Safetipin collects geographical data in Delhi to map women's safety on the streets, collected from women who reported different levels of GBV risks in public spaces. This data was used to improve lighting in over 7,000 locations throughout the city.  Further, Safetipin also integrated all the helplines and resources for GBV in Delhi onto the app as requested by the government. 

Safetipin is a member of the Global Coalition on Inclusive Safe Space and Cities for Women and Girls (GCISSCWG), and its actions are part of the Global Coalition's commitment of Realizing Rights: Safer Public Spaces.
 
The City of São Paulo, Brazil, facilitates information sharing to end GBV
"It is important to know where to find support", reads a sign projected on a building in Sao Paulo as part of the City's implementation of its Generation Equality commitments. Photo: City of Sao Paulo.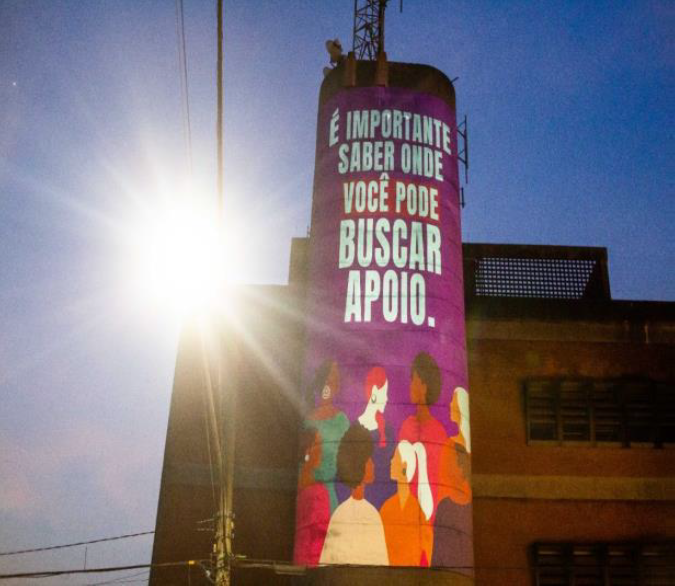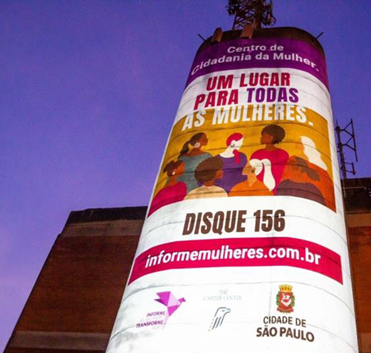 The city of São Paulo, as part of its commitment to the Action Coalition on GBV, became one of the 12 cities around the world involved in the  Inform Women, Transform Lives global campaign. This ground-breaking global effort aims to raise awareness about women's rights to access public information; provide women with information about GBV related essential services available in the city; and advocate for politicians and policymakers to build women's access to information into national  laws and policies. Information was disseminated through the use of banners, animating buildings, website, murals and posters were placed in strategic places to disseminate key messages.  
According to the Municipal Department of Human Rights and Citizenship, there was a significant increase in the number of women who sought support from Women's Citizenship Centres. including legal assistance and other essential services. The campaign website had 3,260 visits in the first 6 months.
Learn more about the Inform Women, Transform Lives global campaign here.
Learn more about the progress made by the Action Coalitions Leaders and Commitment Makers in the Accountability Platform: https://commitments.generationequality.org/
Get up to date on all the Generation Equality actions: https://forum.generationequality.org/