On 9 November, at the COP26[1] Gender Day Presidency event, Member States set out bold new steps to ensure climate action is gender-responsive and to improve women's leadership and meaningful participation in climate action. These new commitments build upon in excess of USD139 million-worth pledges already made towards the UN Women-convened Action Coalition on Feminist Action for Climate Justice, launched at the Generation Equality Forum in Paris in July. The Generation Equality initiative is a global effort to accelerate action and investment for gender equality by 2026.
UN Secretary-General António Guterres has referred to 2021 as a 'crucial year' for action on climate change, as commitments outlined in the Paris Agreement must be supported by clear and credible plans. The Generation Equality Action Coalition on Feminist Action for Climate Justice is responding to this call, bringing together Member States, international organizations, private sector, civil society and youth-led organizations to finance efforts, set concrete targets and drive collective action for achieving gender and climate objectives.
The commitments announced at the headline event, 'Advancing Gender Equality in Climate Action', will help build momentum internationally to drive implementation of the Gender Action Plan agreed at COP25, ahead of the sixty-sixth session of the Commission on the Status of Women (CSW66) in March 2022, which will focus on gender equality in the context of climate change, the environment and disaster risk reduction.
"Today's commitments are a step in the right direction, but we need many others to join us. Rhetoric is important, but reality change is the urgent focus now", urged Åsa Regnér, Deputy Executive Director of UN Women, calling on governments and all stakeholders to join the Action Coalitions by making a new commitment, or joining existing collective commitments to advance feminist action for climate justice over the coming five years.
The ambitious new pledges made to the Action Coalition on Feminist Action for Climate Justice, in support of delivering on the Global Acceleration Plan for Gender Equality, include:
Bolivia

committing to promote the leadership of women and girls, especially indigenous, Afro-Bolivian, community and rural women, through their participation in the design of sustainable development projects. Bolivia also committed to reflect gender data in its Nationally Determined Contributions (NDCs), and to work with UN Women to promote the use of gender breakdowns in official national statistics on environment and climate change.

Canada

continuing to support women's leadership in climate action and ensuring that 80% of its CAD 5.3 billion climate investments over the next five years target gender equality outcomes. Canada is also pursuing investments to link environment and socio-economic data including gender through a Census of the Environment; leading the Equal by 30 campaign to advance gender equality in clean energy; and has signed on to the multi-stakeholder Gender and Energy Compact at COP26.

Ecuador

committing to strengthen leadership, negotiation, and decision-making capacities within women's organizations working on climate. Ecuador also committed to prioritising the most vulnerable women and children and developing them as agents of change.

Sweden

announcing new measures to firmly embed gender equality within all their climate action, including a workplan to integrate a gender perspective in all the core operations of the Swedish Environment Protection Agency (EPA). Sweden also announced that they are undertaking preparatory work for the possible adoption of a national strategy to integrate a gender perspective in the implementation of the Paris Agreement in Sweden.

The UK

setting out how £165 million in funding will address the dual challenges of gender inequality and climate change in climate change adaptation efforts; to increase analysis on the impact of climate change decisions on women; and to integrate violence prevention into climate action.

Belgium

committing to a Sahel Climate Program focused on the needs of women and girls, with a 5-year investment of 50M€.

Norway

working to increase and strengthen the role and impact of women and girls in both international and national climate decision-making.
Progress was welcomed by Sabra Noordeen, Special Envoy for Climate Change of the Maldives, who spoke at the event. The Maldives co-leads the Feminist Action for Climate Justice coalition, alongside Costa Rica.
Speakers discussed priority challenges and shared personal motivations for their work integrating gender equality into climate action. Indigenous leader, Tarcila Rivera Zea, said: "Mother Earth is only one when all of humanity has equal rights. All of us need to make a real effort to stop the negative climate impact in our territories and lives. It is the responsibility of all leaders and business actors to guarantee dignity for future generations."
Young women and girls have been leading global and national climate movements that have effectively shifted the climate discourse in a matter of years. Their meaningful participation is critical to tackling the climate emergency. Youth activist and founder of Clean Earth Gambia, Fatou Jeng, called for enhanced representation of women and youth globally, including in climate change decision making, saying "for us to really prioritize or tackle the climate crisis, we need to make sure that women are part of the leadership process. Only then will we be taking the crisis seriously."
The event demonstrated the ever-growing impetus within the international community to raise ambition for climate action, sending the message that the time for gender-responsive implementation is now.
Find out how to become a Commitment Maker here. Explore the list of exemplar commitments -including from Leaders - to the Action Coalition here and the list of collective commitments here. Watch the event recording here.
Check out our special edition newsletter on the Action Coalition engagement at COP26 here.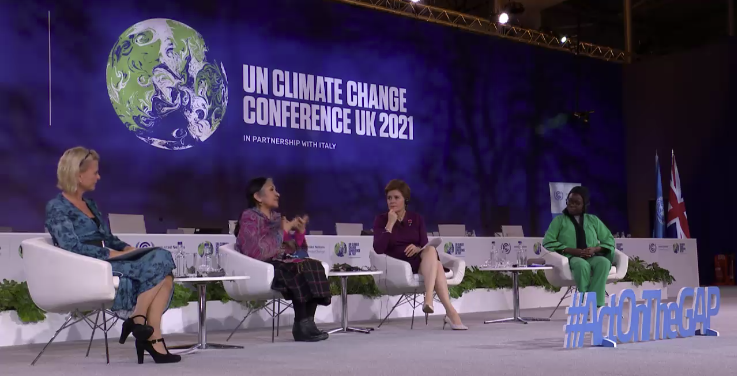 ---
[1] The COP26 event is the twenty-sixth session of the Conference of Parties to the UN Framework Convention on Climate Change (UNFCCC COP26). It is a global United Nations summit about climate change and how countries are planning to tackle it, taking place from 31 October to 12 November 2021.