This editorial series provides a glimpse into the work of the Generation Equality Action Coalition Leaders as they work to develop catalytic actions and commitments to advance gender equality.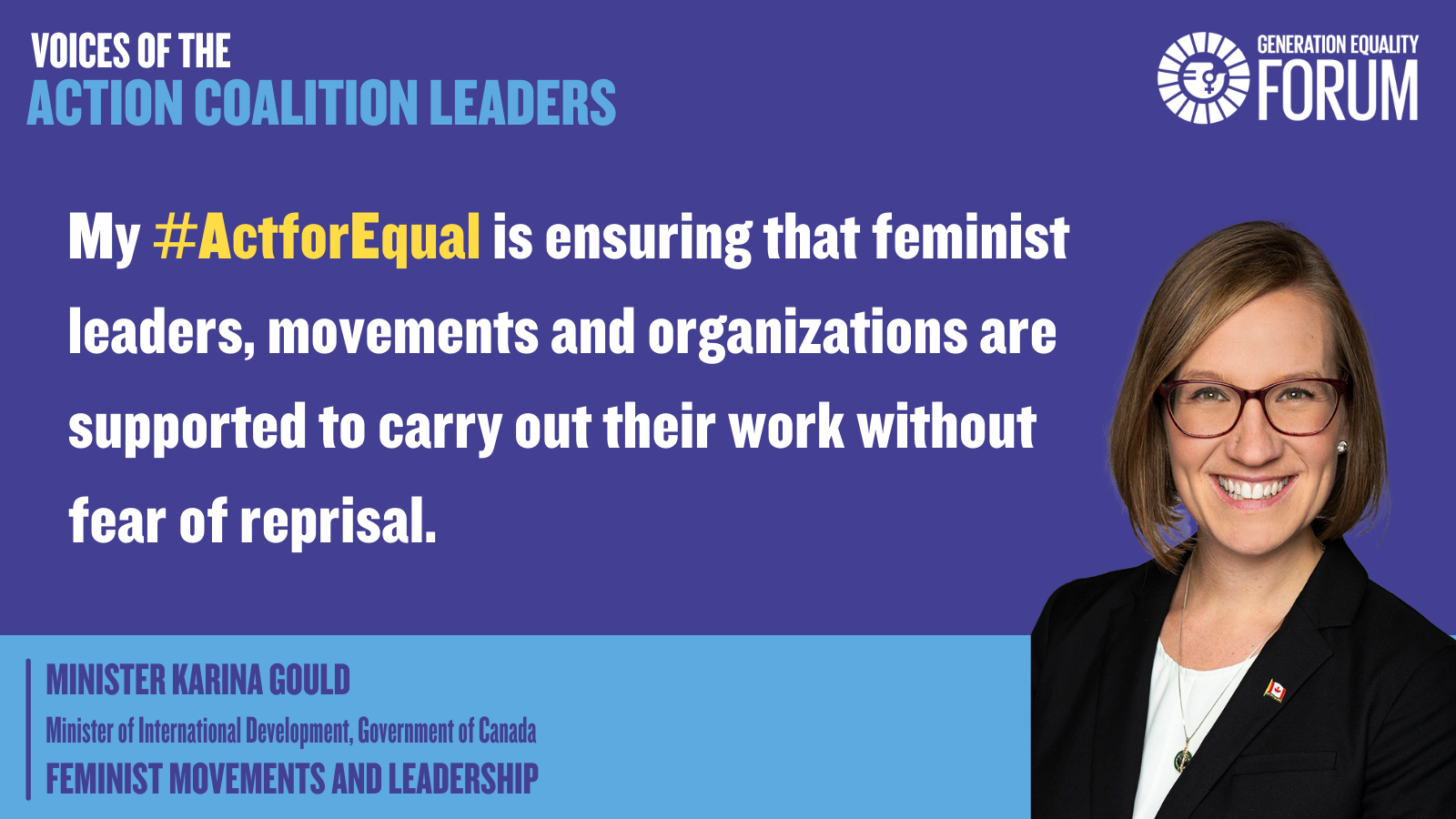 Name: Minister Karina Gould  
Action Coalition: Feminist Movements and Leadership
Role and Organization: Minister of International Development, Government of Canada
Why did the Government of Canada sign-up to play a leadership role in the Generation Equality Action Coalitions?
Firstly, because we recognize how key the voices of feminist movements and feminist leaders are to advancing gender equality. Feminist organizations are on the frontlines in their communities as we have seen throughout the COVID-19 pandemic. They have been supporting the poorest and most vulnerable, fighting and advocating to ensure that those dependent on services, such as women's shelters, continue to have access. These are the people on the ground who are making change happen on a day-to-day basis, and we must support them.
Secondly, we see challenges and barriers to feminist movements and leadership that we want to help mitigate through our leadership role. A big challenge is funding. Less than 1 per cent of development assistance goes towards feminist organizations – we simply need more. Another serious challenge is the pushback against gender equality around the world. This makes supporting civil society and developing allyship and solidarity across countries even more important. The Action Coalition agenda is critical to ensure that we tackle these barriers and see real gains and progress.
What actions are you most excited to stand behind to advance and grow feminist movements?
Canada has invested CAD 300 million in the Equality Fund, which is a unique partnership between civil society, philanthropy and the private sector, providing long-term sustainable funding to women's rights and feminist organizations around the world. We were really excited to see the Ford Foundation's commitment to the Equality Fund at the Generation Equality Forum in Mexico and we hope that other donors will step up to support this important work.
At the Forum in Mexico, we also pledged CAD 10 million to the United Nations Trust Fund to End Violence Against Women. This is another great way we can support grassroots initiatives that are having a tangible impact in their communities. These actions change realities for people on the ground in a way that is led and guided by the individuals who are living there. I'm excited to see what other countries are going to be putting forward!
I understand you assumed this ministerial role in 2019 – what inspired you to take on leadership roles?
I was fortunate to be appointed parliamentary secretary to the then Minister of International Development, Marie-Claude Bibeau, in 2015. Minister Bibeau was a huge champion of gender equality. She put forward the Feminist International Assistance Policy, as well as creating the Equality Fund and the Women's Voices and Leadership Program, and I was able to support her in pushing this agenda forward. In November 2019, when the Prime Minister asked me to take on this position, I was obviously delighted to be able to carry on implementing our work. I was excited not just because I believe in equality as a proud feminist myself, but also because I know that when we advance gender equality, we advance everyone. Having women in leadership positions and having women with access to their full suite of rights has transformative possibilities, including addressing global inequalities and benefiting families, communities and societies.
My advice for women aspiring to lead in politics would be: know that you can do it. There are many very real barriers to getting involved in politics, be it financial or discriminatory. However, in many ways women have been conditioned to think that leadership roles are not for them, and that is not true. Women's voices and young women's voices are important. We need to put ourselves forward because it matters.
What solutions must we back to close the gender gap in leadership?
Women in all of their diversity need to see themselves represented in leadership positions. Those of us who are already holding leadership positions need to think about how we can open the door and hold it open to bring other women in. As well as increasing representation, we need to create environments that are enabling for women. I am the first woman in Canadian history to have a baby while holding a cabinet position. When I told the Prime Minister I was pregnant, he replied that we would make it work and demonstrate to other women that it is possible. That kind of leadership from our male allies creates the space and conditions for women to be successful.
What, for you, is an ideal outcome of the Generation Equality Forum?
Recognition that gender equality is a cross-cutting issue that has to be tackled in all aspects of our lives, economies, and political spheres. This goes hand in hand with recognizing that the work of each of the six thematic Action Coalitions is mutually reinforcing. The commitments made in each Action Coalition support the objectives of the others and this integrated approach is essential for progress.
My message to leaders convening at the Forum would be that we have to back words and commitments up with actions. It is one thing to say we are committed to gender equality, but it is another thing to demonstrate how we are going to achieve that. What is so exciting about the Generation Equality Forum is that it's not just a three-day conference, it's a five-year agenda that asks us to actually commit and take action to achieve gender equality. It is a really important opportunity – half the world is counting on us, so we need to get results!
Read more about the Action Coalitions here.